PES 2014 European Mini FacePack Vol 5 by Hawke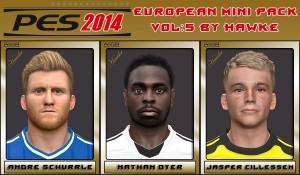 PES 2014 High Definition mod exe by Jenkey1002
Description : 
High quality graphic mod for PES2014
Based on PES2014 exe 1.4.0.0 (patch 1.07)
How to use:
Extract to all file to game folder
Run pes2014.exe as Administrator
Recommended :
Backup your old file before using
HD exe requires good PC for running smoothly
HD mod
Default
India 2013-15 Team Kits For Pes 2014 by physicist 3D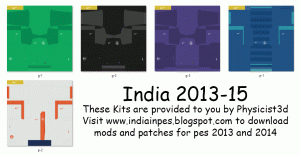 Hello, Blog Readers, I'am presenting Indian Team kits (2013-15) before you so that you can use it in pes 2013. The Kits are updated and in high quality as you can see the preview of these kits: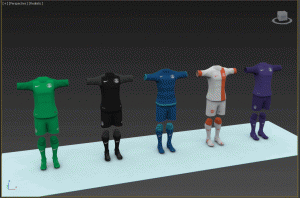 Like me, many indian football wants to play as their team in the most populus soccer game PES that is why i created these kits from scratch using templete. I will also release a mod/patch for pes 2014 shortly with correct names and emblems.
So keep a look at my blog www.indiainpes.blogspot.com for updates.
ModdingPars Patch v1.0 (Persian Mw2014 Patch v1.0)
New Features :
Add new balls
Add new kits
Addnew faces (new 100 face Iranian Pro league Player)
New leagues: Iranian Pro League & turkish spor toto league
Scoreboard: -
-All fake national teams corrected
-MPLoader included
-ML Ranking corrected
-League and Cup logos corrected
Leagues and teams in the patch:
* French league
* Serie A
* Turkish spor toto league
* Spanish league
* Portuguese league
* Chile Primera Divisi?n
* The rest of the European teams
* Iranian Pro League
* Dutch league
PES 2014 File Loader version 1.0.2.8 by Jenkey1002
Change log version 1.0.2.8 : small update – not necessary to download if you don't get any problem with older version 1.0.2.7

Updated plugin :

Gameplay.dll :

Fixed bugs for AI force mode

Faceloader :

Updated main module :

Improve compatibility
Fixed some minor bugs when use with patch 1.07
Fixed bug : settings.exe cannot start
Note : 
I stopped developing Songloader module (that was removed from plugin list already), please don't ask about crash problem due using songloader, use it at your own risk.
PES File Explorer 2014 version 1.0.3.3 by Jenkey1002 Changelog : 
Fixed some known bugs :

Error when rename block
File was corrupted sometime when save apk file

Loading cpk & bin is much faster than before
Improved apk's quality when import from png
Fixed UI flick when running in windows 8.1
Fixed bug when loading FIFA's BIG format
Updated libpng to 1.6.10
PES 2014 Face Pack № 6 by miguelrioave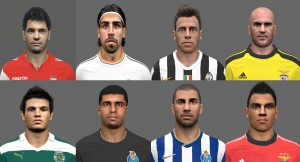 PES 2014 Face Bastos By Fayssal Mayo