Adidas Predator LZ TRX FG Black/White/Berry by Ron69
Please Feedback !
Ricardo Gabriel Álvarez PES 2014 Face by Tartaguaro
player=41537,"R.Alvarez"
Sunderland A.F.C. 2014 Kit Set by G-Style
MORE PICTURES – here.
- FULL Bundesliga 2013/14 – Correct names, logos, squads, lineups, faces and kits.
- FULL Liga2 Cabovisão 2013/14 – Correct names, logos, squads, faces and kits (kits for 14 teams)
- Added missing Champions League teams: Austria Wien, Basel, Plzen and Steaua
- Added new teams: Dinamo Zagreb, Dynamo Kyiv, Genk, Standard Liege, Trabzonspor, Kuban, Red Bull Salzburg, Rubin Kazan, Dnipro and Anji (and Al Ahly for Club World Cup)
- Correct kits for all Premier League Teams and Liga ZON Sagres teams (including 3rd kits and combinations)
- Added new team kits: Bayern, Leverkusen, Schalke, Santos, Benfica, Braga, Porto, Shakhtar, Man Utd, Milan, Napoli, Roma, Verona, Ajax, Almeria, Barça, Real Sociedad, CSKA, Marseille.
- Added new NT kits: Algeria, Argentina, Austria, Belgium, Bolivia, Bosnia, Brazil, Cameroon, Chile, Colombia, Costa Rica, Cote Ivoire, Croatia, Denmark, Ecuador, Egypt, Finland, France, Germany, Hungary, Iran, Ireland, Italy, Finland, Japan, Korea, Mexico, Northern Ireland, Netherlands, New Zeland, Nigeria, Praguay, Peru, Poland, Romania, Russia, Scotland, Serbia, South Sfrica, Spain, Sweden, Switzerland, Tunisia, Ukraine, Uruguay, USA, Walesand Zambia
- Unlocked La Bombonera and Prince Abdullah Al Faisal Stadium
- Added new faces and Tattoos – TOTAL: 180 + 800 from DLC
- Added new boots and new balls
- Added Sleeve Patches for Premier League, Serie A, Liga ZON Sagres and C. Nacional Chile.
- Official referee kits for Champions League, Libertadores and Asia Champions League
- Added Nike referee kits for exhibition mode
- Exclusive billboards for all Premier League Teams and Barcelona, Real Madrid, Dortmund, Bayern, Leverkusen, Schalke, Inter, Juventos, Milan, Benfica, Portugal NT, England NT, Germany NT, Italy NT and France NT.
- Exclusive billboards for Liga BBVA, Serie A, Liga ZON Sagres, Brasileirão and for all languages.
Aaron Ramsey and Thomas Vermaelen Faces by shamrik_gunners
Instructions :
copy folders in FileLoader\GDB\face
and add these lines in map.txt
player=38082,"Ramsey"
player=6263,"Vermaelen"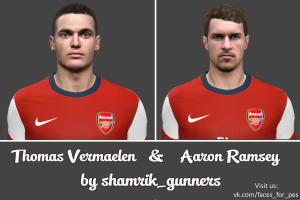 Jorge Moreira Face by Rudincho
[PES 2014 Xbox360 Patch] Real PES Superpatch by F.Totti89

[XBOX360 PATCH] Real PES Superpatch v2 Features:
- 85% Nationals (Kits, Fonts, Numbers)
- 100% English Premier League (Kits, Fonts, Numbers)
- 100% Serie A (Kits, Fonts, Numbers)
- 100% Eredivise
- 100% Liga BBVA (Kits, Fonts, Numbers)
- 100% Liga ZON Sagres (Kits, Fonts, Numbers)
- 100% Bundesliga (Kits, Fonts, Numbers)
- 100% Italian Serie B Eurobet (Kits, Fonts, Numbers)
- Added Adidas Kits for the All Stars Teams
- Updated a lot of national kits for the World Cup
- Fixed much kits without sponsor
- Added sleeves badge
- Edited a lot of Italian faces with internal editor
- New GK gloves "Adidas Fingersave"
- New winter gloves "Adidas" for players
- HD logos for all competiotions and teams
- New referee kit
- New HD boots 2013/2014 with previews and 3D models
- New HD ballpack season 2013/2014 with previews
- DLC 2.0 and patch 1.05
- Database updated on 03/09/2013
- Behind goal ad
- New Locker Room "As Roma"
- Added the 4 missing Champion's League teams (Austria Vienna, Basilea, Steaua Bucarest e Viktoria Plsken)
- Addboard for all stadium and game language, animated also
- HD nets for goals
- New Turfs For All Licensed Stadium (Except for Saitama Stadium)
- New Stadium Previews
- Bug Fix (Bundesliga Fonts and Numbs Iussue)
- Bug Fix (Fixed EPL kit Model and Everton Fonts/Numbs)
- Bug Fix (Fixed some National Team's Chest)
- New Playlist (19 tracks)
- much more…
N.B. BUNDESLIGA AND SERIE B'S ROSTER ARE NOT COMPLETED, I EDITED MANUALLY JUST BORUSSIA DORTMUND. IF YOU WANT COMPLETE THEM, SHARE THE NEW OF!
Football Manager / Fifa 14 to PES 14 Converter v1.0 by SMcCutcheon
Version 1.0 :
Supports only English Premier League and English FL Championship in this version
Playing Styles/Playing Skills are still a work in progress and will not feature in this version.
When merging some players between FIFA and FM there has been a few errors which will be fixed for the next version. i.e Jonny Evans has some stats of fellow Man Utd player Callum Evans.
Search function (Yellow box – A2) supports searching for Teams and Players. i.e. search for "Manchester Utd", click drop down box (Red box) and Man Utd's squad will be selectable.
When searching caps must be used appropriately i.e. "Rooney" will work, "rooney" or "ROONEY" will not work.
Please remember these stats have been converted from FM14 and FIFA 14 therefore I can not be held responsible for "this guy is too high" or this guy is "too low".
Please give only constructive feedback !
PES 2014 Facepack vol. 2 by Rednik
includes : Munian, Tomovic and Capoune.
PES 2014 Facepack N°4 By DzGeNiO
includes : Boudebouz, Dzeko, Mandi, Thiago and Walcott.

player=46466,"Mandi"
player=38190,"Boudebouz"
player=33700,"Walcott"
player=37638,"Dzeko"
player=41126,"Thiago"