KONAMI announces its new mobile soccer game, "PES MANAGER"!
"PES MANAGER" is the international version of "World Soccer Collection S", the leading soccer game app in Japan! The game is rich in content and features realistic 3D matches and over 1,500 star player badges using actual photographs of players from various EU leagues. Also, the intuitive gameplay and controls make it easy for any soccer fan to enjoy anytime and anywhere!
A Pre-launch Shootout Challenge campaign is currently being held.
Check out the PES MANAGER official website for more details and don't miss out!
Set Player Badges that have special skills to unleash super plays!
The higher the level of Excitement is when you win a match, the more rewards you can earn!
"PES MANAGER" offers various match types such as: Challenge Matches, Cup Contests, and Special Matches! Master the Training and Formation elements to strengthen your team and claim the top spot by taking out the competition!
Try the Shootout Challenge!
1. Register your Email address.
2. After registering your Email address, you will receive a confirmation email with a personal URL leading to the Shootout Challenge page. Please be sure to use that specific URL to access the campaign.
3. Take a shot at one of the Emblems to receive a star player!
PES 2014 Lasse Schone Face by Hawke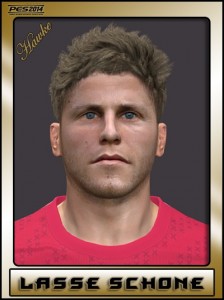 PES 2014 PS3 Patch by aldimanx v3.3
Whats new v3.3  ?
- add DLC World Cup!
- add missing wolfsburg
- fix some bugs
- fix freeze in games
- add bayern badge
- update kits Skybet
- update some ISL team kits season 13-14
- add 3rd/4th kits for skybet & liga MX
- compatible with DLC World cup
- 18 team liga MX fix
PES 2014 Facepack v1 by Anis and Joker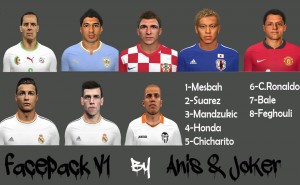 Pro Evolution Soccer 2014 Stadium Pack by vangheljs
Gli stadi contenuti in questo topic non sono conversioni per pes14 di stadi per pes13 già esistenti. Gli stadi sono rifatti da me partendo dai modelli 3d di pes6 e da textures di pes13 o di versioni precedenti o ritoccate da me. Stadi contenuti nella cartella pes14_win_dat del 31/03/2013:
Stadio San Paolo – Napoli – Serie A
Veltins Arena – Shalke 04 – Bundesliga
Stadio Partenio – Avellino – Serie B
PES2014 Epl MiniPack by Footballmania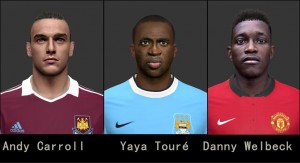 PES 2014 Yuri Lodigin Face by D.Podgayskiy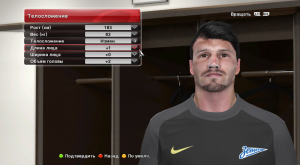 PES 2014 Greek Facepack v3 by PantelG7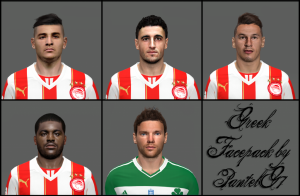 BACK TO THE FINALS 13.2 BY FROGBULL
Presentation :
Back to the Finals is a mod for Pro Evolution Soccer 2013 which lets you replay 20 UEFA Champions League Finals, 8 UEFA European Football Championship Finals and 8 FIFA World Cup Finals.
But the mod let you play with actual teams and MORE!
We don't like switcher so… all the teams are playable directly !!!
Actually the mod is based on PESJP Patch 2013 version 2.01.
Changelog 13.2
Easy installation, you just have to install it with a simple setup.exe
New teams :
- Italy '82
- West Germany '82
- France '84
- Spain '84
- Argentina '86
- West Germany '86
- Soviet Union '88
- Netherlands '88
- Denmark '92
- Germany '92
- Czech Republic '96
- Germany '96
- Portugal 2004
- Greece 2004
- Germany 2008
- Spain 2008
- Italy 2012
- Spain 2012
- Classic Japan
- 18 English Second Division teams
- 18 Italian Second Division teams
- 18 Spanish Second Division teams
- 34 American teams (include 32 south american teams and 2 north american teams)
Many new kits, faces & balls
Good old musics (bye bye Konami sh!t)
Stats updated for a lot of players
13.0.1
Correct team names for all languages
Corrected stats for some players
13.0
Updated for PES 2013
New teams :
- West Germany 1990
- Argentina 1990
- Brazil 1994
- Italy 1994
- Brazil 1998
- France 1998
- France 2000
- Italy 2000
- Germany 2002
- Brazil 2002
- Italy 2006
- France 2006
- Netherlands 2010
- Spain 2010
More faces & hairs (Ronaldo, Rivaldo, Zinedine Zidane, Fabien Barthez, Marco van Basten, etc.)
New balls (Adidas Fevernova, Adidas Questra, etc.)