UEFA Champions League Digital Rotating Adboards 2014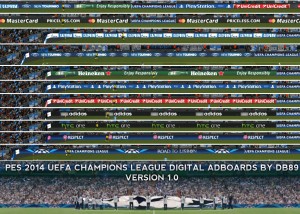 This is the adboard that will be used from February to May in the UEFA Champions League.
Adboards are based on UCL 2013 final stage ones.
Some sponsors will be updated in mid-February.
How To Install :
Just extract the files on your FileLoader folder. You need administrative privileges.
Credits :
Ideated and created by db89
Heineken adboards by Hicksville
Template & information by majuh
*** If you want to use these adboards in any patch, you are free to do that,
but you HAVE to report me as author. Thank you :) ***