Stevan Jovetić Face by Vangelis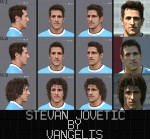 1) Download and install FileLoader. If you already have it, skip this point.
2) Add folder "pes14_win_dat" to your "FileLoader". THIS will install Real eye mod by "lostpfg". Do it unless you want "Zombie Jovetić" :D
3) Add folder "Jovetic" to …/Fileloader/GDB/face.
4) Add this line to your map.txt in GDB:
player=38051,"Jovetic"
5) In game fix physique proportions as image "physique.jpg" says.
6) Enjoy ;)
FAQ:
1) FACE IS NOT APPEARING IN GAME
Make sure that you add folder to right place. Also check if you have wrightly written that line to map.txt. If yes, enter into EDIT MODE, find proper player, click on "Face" and then press "Y" button (default). It should work.
2) SKIN IS DIFFERENT COLOR THAN FACE
Check "config.txt" in player´s folder in GDB. Fix value of skin color as instructions in config.txt say.
3) I AM STUPID
Sorry, cannot help you :D