Shollym Multipatch 2013-2014

[ 3 patches in 1 ]
1. Total Club version 2013/2014
soon screens…
2. All National teams version 2014
3. Classic Shollym Patch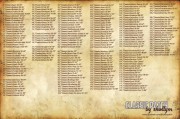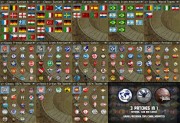 More screens here.
– Switching between all 3 versions is very fast and easy and it is explained inside the installation manual file.
– Option file with all transfers, all correct squad numbers and fully updated first lineups, player age correct
– For each of 3 versions of the patch there are several versions of Option file, Normal and Option files with changed gameplay (the game physics are closer to real football game) + a bonus Option file with Futsal teams to play 6 vs 6.
– All Classic players removed and replaced with free agents for full Master league experience (IMPORTANT!! WHEN PLAYING MASTER LEAGUE LEAVE OPTION TO SHOW CLASSIC AND PES SHOP PLAYERS BECAUSE I REPLACED ALL OF THEM WITH ACTUAL PLAYERS SO YOU NEED TO TURN THAT OPTION ON OR OTHERWISE YOU WILL MISS SOME PLAYERS IN YOUR ML!)
– Deeply covered squads, all important players are created (exceptfor some young players who are not important)
– National teams roosters updated with according to the qualifiers games played in recent months
– In NT version there are many free agents who are not in National team squad but get called-up for their NT from time to time, so you can easily register them if you want to change squad members
– Updated formations of all clubs according to their performance in leagues until November 2013
– All teams with 2013/2014 kits
– All player stats are updated in November 2013
– Stadiums with improved graphics and HD turf – All stadiums in Club version have HD turf + many in NT version, a total of 450 stadiums in stadium pack.
– Updated adboards in all stadiums
– Real life Referees patch
– New looks for menus and cup, league and ML backgrounds
– Real trophies patch included
– HD Flags for all teams in the game
– Fully updated Ballserver and Bootserver by LeeST
– Fully updated Face & hair Server – MANY teams wiht 100% faces
– High quality chants for all club teams in game, and many chants for national teams,
combined chants from all chantmakers to make the best and most complete chantpack ever.
– Completely new music background ih the whole game (Soundtrack list is inside text files)
– Realistic ball sound, referee whistle, sound of ball hittin the post and crossbar
– Scoreboards for all 3 versions of the patch.
– Better looks for crowd – updated crowd textures by Astracel
– New colour style for PES6
– Different OPMOV for all 3 versions of the patch
– All 3 versions are playable online
Gameplay:
Improved player's off the ball characteristics (attack, defence, teamwork), balanced quality of the teams – reduced the big difference in quality between 'big' and 'small' teams, also balanced physicall stats of 'star' and 'normal' players (body balance, stamina, speed, response, mentality) and as a result of that eliminated so called "robot effect" (situation where phisically much stronger players literally go through weaker players); goalkeepers stats aro also much improved so now their reactions resemble more to reality, alsco "BALANCE" improved for all goalies so now they don't rebound stronger shots – as a result of that rebound goals that irritate every serious PES player are almost eliminated.
Improved Master league and other Cup/League competitions:
This is mostly as a result of balanced teams qualities so now every COM opponent is harder to beat, and scores of other COM teams in the league are now various so you can't have a situation as we had before when for example after 10 rounds Man. Utd and Chelsea have 9 or 10 league wins, this contributes to a very interesting competition that is closer to reality where big and expensive teams can often loose or play draw against weaker oppponents.
AI: 
Improved AI, especially player movements in defence because of improved teamwork stats players (especially side backs) come back more often and fill the empty gaps on the sides or cover opponents – as a result of this it is very difficult to score asy goals from 5 yard box or one of those goals when you give a return ball to your player standing 20 m from the goal and then he fires aalmost a ceratin goal, these are well known PES 6 goals and believe me with this patch they are very hard to score because of improved goalkeepers and reduced weaker foot accuracy. This is the reason why many people noticed that the game is changed after they played this patch for the first time, especially if you use Shollym gamelay option file which is even more harder and closer to real football experience.
Visual improvements:
New stadiums with improved graphics and HD turf, real referees, real trophees, TV scoreboards, new looks for menus and team emblems, high quality kits, faces..
Atmosphere during matches:
Many consider this to be the best element of Shollym Patch, all teams have their original chants and stadiums so in the beggining of eevry match there is a feeling as if you were on the stadium! Also ball sounds and referee whistle are changed so everything is closer to reality.
Other improvements:
Constant adding of new players and transfers, actualized player stats
NEW: Shollym gameplay 1 & 2 – very hard and challenging, recommended to real football lovers, high level of realism. Shollym Gameplay Option file is created for all versions of the patch.
– By the end of December 2013 there will be a PSD version of Total Clubs Option File made with stats from PesStatsDatabase
Download links, installation manual and other very useful information about the patch are in a text file called "All Download links" :
+ Extra mirror :
http://uptobox.com/0nczaqwofsru
http://uptobox.com/llcxq5zxzxsz
http://uptobox.com/exlgl1dk6310
http://uptobox.com/ildvyv4x5gh1
http://uptobox.com/02fb3dglt3pd
http://uptobox.com/uezas6q5zgt0
http://uptobox.com/fc21gtsplgtq
http://uptobox.com/ho5n7lpjibew
http://uptobox.com/bbq2ojm8shpi
Credits :
Patch team:
Shollym
LeeST
customiZer
giacomo
FdL 1899
allezlinter
Johnny_007
Maxamor
nikolapfc89
ZeBastian
dj90
Johny19
Lazanet
Lerp90
Pipa23
rakse93
Lapi
thanks to all kitmakers who stil create kits for PES6:
Shakhtar Donetsk, Daniel_Juve, Schnuuu, El Chimbinha, Daoo, jorm, Shardo, gerardo6191, VillaPilla, ayoking, Lejzi, Goran, gabriel_timao, Szenowski, Zlatan85, boro, sebinho, nabo78, plk, sahsouh, Mikue, ElToY, *aLe, Claxdinho, Valbuena13, t1ma, JuanZinho, Lucas, Argy, chmiel13, Ema, Odiney, Sambozic, Agus, Marianoarrana, Era, Sly_zombie. Cosic, Lazanet, adebayor_15 …
stadiums – thanks to all the creators who create beautiful stadiums and to editors who update them in blender with HD turf and other details:
Maxamor, Maxey, Alegor, Johnny007, realsoto, Betamax, damisei, matupale, Raven_FCB, Pipa23, leanh1991, Lizarazu77, jonys38, dinei, bart13, gabriel32, zico, Dandro, Alehtrumpet, FranciscoPES, Perco 1907, AnsokBeatz, rojo_pes, DK!, Atreida06, The_Pelado, elpepo912, Anti, Stonecold, reygermano, lorenzo11, walczu, abdouelmerengue, geezer
stadium previews by TomiPL, Albiceleste, jonys38
updated adboards by jihado86, dracger, Jio, kemo_man
chants by
gigimarulla, Homerox, Josdj, Shollym, nikolapfc89, Tommsen, Sudao, Jose M, harrieanak, Marcos_SJ, santog, Jechu, ignavl, Mikue, pedrito_perez
0_text and e_text:
– club teams and national teams flags by customizer
– some graphics by DJ2Mello and arip
– banners by LeeST, baba_a, Marinho, Cuervo, Edwin, Amir_Pjanic, pendula_kg, mauri_d
– better looks of crowd – updated crowd textures by Astracel
– true currency in Master League (euro) by Alex 1912
– new referees kits by ahdstret8
– scoreboards by FdL1899, allezlinter, trkyhaker and Loki
– real trophies patch by Txuki2005, MHF, betamax
– real referee faces and names by Teco, Bocatatun_14, Albiceleste
balls collected and assigned by LeeST
boots collected and assigned by LeeST, Pero91
balls created by Skills_Rooney, Hayate, luxusor, Arctic_monkey
boots created by nabo, snake_li, schweinstieger31, moramed, nguyenanhtuan_mu, VARK, reddaum, Alexbeckhs, sauce, vee, chacal111
facemakers:
Adam_nox87, alfcip, Alegor, BadNewz, dai1192, JayM07, KID, lerp90, 1Juan, Pochote, Fabricio Seabra, Zombie, murder, minhanh, Stevan, seeKY, Timak (T-Mac), Dede1201, ezombi, gghghgh, missZo, don_rxf, Ewerton, Homer284, LFC1988, Ramos, Libero, Spektarm, s'n, Rodrigo, joker5, The Angel, Candy King, RCE, Gutter13, Katracho, jerguecumamanolo, Pesecito, coyoyofmr, jinzo0089, gaston_22, proevo, Vildan, Seras, Chaykgs … and many more
thanks to juce & robbie, Majin, Rechi, reddwarf, zerofun, ackomd, senna, aglioeolio, suipa, Pipa23, Johny s jednim n, Master Saborio, kristian826, joker5, Edinho, dejan3
Also thanks to creators of other patches from which I used some of the material: PES6009, RFPL, PES7, Apertura 2010 PesPasionArg, AFA-Pes, Pes para todos, Parche LFP El Dardo, UPL 2011, Phoenix 12/13, EFL 2013.
The rest of you thank you for your support, it means a lot, I hope you will enjoy playing the patch!
Classic patch credits:
Shollym,
dj90,
allezlinter,
Leest,
Leo21,
customiZer,
Lennon, dvdnique, ZeBastian, Garrincha, kristian826, arip, Viniciouswe, Fdl 1899, Loki, Rembrant, trkyhaker
additional sources:
http://www.footballdatabase.eu/
http://www.zanziball.it/
www.wikipedia.org
www.fifa.com
All National teams version credits:
all graphics, menu and national flags by Customizer
and a big thanks to all kitmakers!
full credits:
Shollym,
Johnny_007,
giacomo,
CustomiZer,
Eddy_65,
Marinho,
antonioplaza,
realsoto,
dandro,
matupale,
diegomen,
luizaoCR,
ogad007,
yoyo ala,
baphomet,
diego!,
arip,
daoo,
Shardo,
jihado,
Boca,
Tottimas,
Zilandi,
Mracho