PES2014 Footlife Editor By QiuY v20140223
Fix:
1. edit BL player name
2. clubs missing
3. training point
4. tranfser player face not match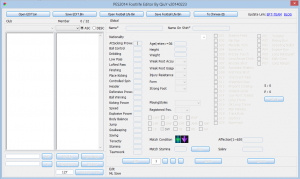 all the Features and usage is like 2013FLEditor
1. The icon on the left of Match State icon has no effect to your FL club. I tried, but it does't work
2. Negotitations max count is 36, which include your self club players.
3. I have no idea about the growth type value.
The nation is coming from PRO-EVO Editing Studio 2014 V0.3.0.0, thanks very much.
Thanks all! Enjoy it !
Special thanks: John Forman(ept), Mecedez(baidu)
by QiuY from EPT-Team
Click "English" to change from chinese. Password is : ept