PES Professionals Patch 2016 Version 4.2 Released 17 Aug '16
What's New ?
Summer Transfers Until 16-8
Updated Kits for ( Atlético Madrid – Roma – Marseille – Lyon – Bayern Munchen – Borussia Dortmund – Liverpool )
Fix All V4.1 Bugs
Add New Premier League Scoreboard
Fix infinite loading in Exterior view
Add about 100 new faces
How To Install:
1 – Run Installer from "PES Professionals Patch V4.2 Install.exe" And Select Your PES 2016 Directory
2 – Open Your PES 2016 Directory and open "PES Professionals Patch Selector 2016.exe"
3 – Select 'Others' tab and switch tatto mode to 'on' :)
FAQS:
You can disable classic teams before starting your master league
We don't change gameplay , We only use original KONAMI gameplay
If you face lags , Turn off sweet FX From the selector , and switch turf to Pitch Ultra HD By Estarlen Silva
If you have black screen problem :-
Make Sure you have PES 2016 installed
Make Sure 'PESProfessionals_Kits.cpk' is 7.05 GB , if it smaller than that , install game in 'NTFS' disk partition not FAT32
Common Questions:
– I Must download earlier patch versions to install the patch ?
Yes, Is necessary have the PES Professionals V4.0,V4.1 installed
– I must download data packs ?
No, It's already included in PES Professionals patch
– Can I disable SweetFX ?
Yes, Open selector's tab 'SweetFX' and switch to 'OFF'
– My master league saves or become a legend , will be removed ?
No, but we recommend you to start new ML to enjoy with new patch features
– I can't find new transfers but other features works well !
Make sure you run the game in offline mode.
If not solved, Open selector's tab 'Others' and click 'Setup Option File'
– Why when I add new cpk the game crash ?!
Generate Dpfilelist with correct order .
* Don't include 'PESProfessionals_Online.cpk
When you switch to Online Mode , it'll be activated automatically.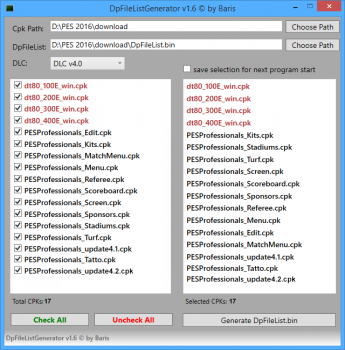 – I can't see tatto mode !
It switched off by default , you need to enable it with the patch selector
Open Selector >> 'Others' Tab >> Switch tatto mode to 'ON'
– Why we removed Exterior view in V4.1 !
For technical reason It make infinite loading when you enabled tatto mode.
Download :
-If you have V4 and V4.1 , you need to download V4.2 Only from here : Download (200 MB)
-If you have V4 only without any updates , you need to download all updates from here : Download (1.1 GB)
-If you have the game without any patches , you need to download the patch with all updates from here : Download (5.6 GB)
Credits: Elmodamer, Hosamalfars, Memo Patch Maker, Mahmoud Ibrahim Fçb, Estarlen Silva, Donyavia, Hawke, Txak, Tunizizou, fifacana, JesusHrs, Nemanja, Mo Ha, vangheljs, cRoNoSHaCk, Znovik_S, Kairzhanov_21, A7MED SB, spiritusanto, Fede, rednik, MarioMilan, Grkm, Andrey_Pol, Cronos, Bono10, MT Games 1991, Juegav, Various, WENS, Mahmoud Anwer, Marceu, Ludvan, MRI20, Wygno, M.Hammani.
Big Thanks To: Shrief Elafify , Mohamed Tarek Shawky , Shieka facemaker, Facemaker Sameh Momen, kelvinchan327, Chiheb27 Facemaker, Boulbaba facemaker, Oussema Ouchikh, Mostafa Rezk.
Previews :
Updated Kits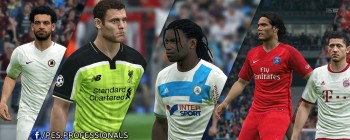 Transfers and new players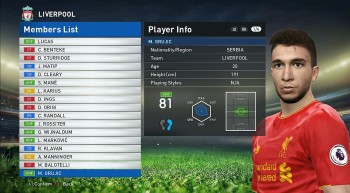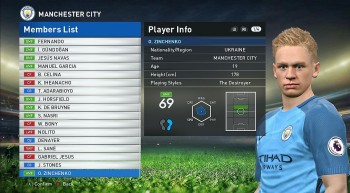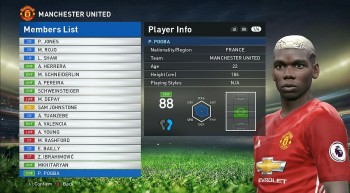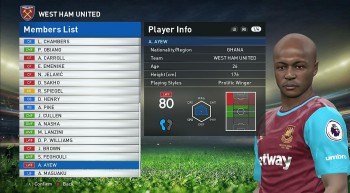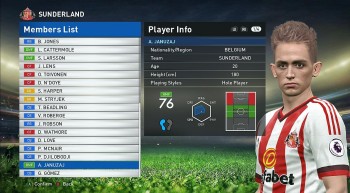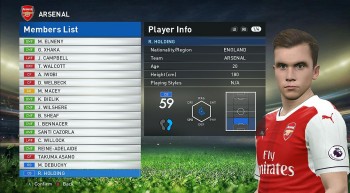 More Previews :-
PES Professionals Patch 2016 V4 AIO
PES Professionals Patch 2016 V4.1
V4.2 is the final version for PES2016.
Thank you for choosing PES Professionals Patch , we really appreciate it.
Goodbye!