PES 2014 PSG F.C. Adboards HD By Zikint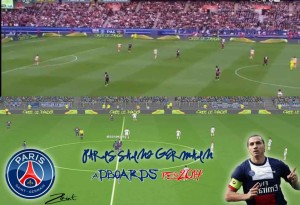 # Realistic bill face texture;
# Adding billbody & billface in corner;
# 100% Full PSG FC sponsorship view motion = view PSG FC reality match (update sponsor motion 'Latest week on May 2014)
# 90% realistic all PSG FC Sponsorship movie motion (Change Quckly Frame only)
# 6;50 minutes duration
to use :
2 part rar file (.001 & .002), place in one folder and then extract .001 rar file only…
(backup your bill folder)
(Example here i used Stade de French Stadium, and ID "st012")
copy "pes_win_dat" folder to FileLoader by Jenkey, and add the config.xml parameter like this.
attention :
#Always Backup Your bill file;
#This PSG FC adboards is Bigger file movie, full team sponsorship and running 29fps frame rate movie adboards (the official PES14 running movie adboards is 23fps frame rate), this adboards working at my game on pc, (1.13 patch + Fileloader + SweetFX) all game performance is good,, tested by me..;
At your own risk;
#if you see the PSG FC full sponsor on this adboards,set and Play the game match for 15 minutes,, ;
#Put usm. file only, if you want to use other stadium.
Thank you…
Credits :
– Master Jenkey, Best FileLoader
– Suat CAGDAS 'sxsxsx' (CPK tools)
– Grkn, for Inspiration
– Rhudie, for usm script Encoder
– Majuh, for bill confiq templates
– Pesmonkey
– chrisi20
– Tunizizou
– anatolybarita
– All Patcher
– evoweb