PES 2014 [MultiGameplay TOOL] F1X4R v1.2 beta by nesa24
About tool:
Tool made to improve gameplay for NBA and PES 2014.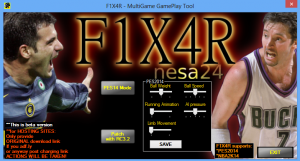 How to use:
ALWAYS make BACKUP of your exe
1.Click select exe
2. For GameplayPatches: Click on Patch with RC1 or RC2 to patch. After patching new exe is created (with nesa24 Gameplay.exe).
For Sliders: Adjust sliders and click SAVE
So nba2k14.exe is normal gameplay and nba2k14 with nesa24 Gameplay.exe is with gameplay tool
Gameplays
NBA2K14RC1-Improved ball control, Improved dunks, Improved teamwork, overal gameplay flow change…
NBA2K14RC2-Harder gameplay with improved AI mechanics and animation control..
PES2014RC1-Harder ball, More shoot power,Move ball fight,Removed catchup bug,Better attack/deffense,Better connected animation,Faster animation,Better response on commands and more [First gameplay with hotfixes]
PES2014RC2-Slower Gameplay with forced SIMULATION of modern football
PES2014RC3.2-better keeper reaction, ball magnus effect, small adjustments in wide areas of gameplay[new gameplay RC3 with HotFixes]
ABOUT PES SLIDERS
Running animation = Change in way player runs [options are default and more natural]
Limb movement = Change in way player limbs [hands and legs] movements [options are default and more free [ less plastic ]]
How to remove:
Just delete exe with nesa24 Gameplay.exe
Link : www.mediafire.com/?2uab14x0xs72o47
NOTES:
1. This IS BETA! Report bugs and issues
2. Only PES gameplay mode is changed in UPDATE
3. LIST of EXE support of 1.2beta
[*]PES2014RC1 supports only 1.00 and 1.01 exe
[*]PES2014RC2 supports only 1.00 and 1.01 exe
[*]PES2014RC3 supports only 1.06 exe
[*]PES2014 SLIDERS support 1.00, 1.01 and 1.06 exe