Pro Evolution Soccer 2014 Bootpack v4.0 by Ron69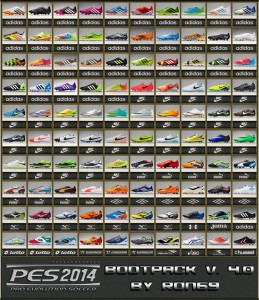 – 100 Boots
– compatible with PES edit Patch 4.1
– compatible with other Patches ( not tested)
– all new Boots added / updated
– incl. Data Pack 4.0 Boots, adidas Carnaval Pack, Nike Tropical Pack and Mercurial CR 7
– works and tested with KONAMI Update 1.07 and DLC 4.0
– correct Bootnames, Materials and Colors
Install notes: Requires File Loader (tested and works with version 1.0.2.8)
If you already use a bootpack, delete necessarily the Folder "boots" in the FileLoader directory!!!
FileLoader\pes14_win_dat\common\character0\model\c haracter\
Then copy the folder pes14_win_dat in the rar Archiv in the FileLoader Directory. Overwrite / replace existing files.
Credits: Qinchao, Konami, WENS, thetrinity12, saks07, scp4eva, PES edit, Fire Patch,
MartyMcFly, Tunizizou and all Bootmaker
Special thanks to: thetrinity12 (SGangster), scp4eva, WENS
Thank you for the excellent cooperation, help and support.
Sorry my bad english and have fun with it. I hope you enjoy this pack !