PES 2013 Anime League Includes:
– Squad and Formation
– Full GDB Kits and Emblem
– Face and Hair Pack
– Full Callnames

1.Naruto United
DOWNLOAD NARUTO UNITED DISINI

2.Tsubasa All Star

DOWNLOAD TSUBASA ALL STAR DISINI

3.Dissidia Final Fantasy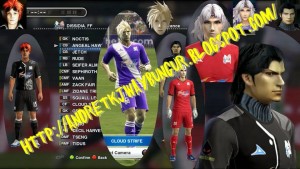 4.Inazuma Eleven  
 Tutorial Includes
-Install Emblem,Squad and Formation
-Install Face and Hair
Link
-Install Kits
-Install Callnames
Ralat.. khusus di tutorial install callnames ini ada kesalahan sedikit yaitu di bagian copy ke folder… di video kayaknya ane salah copy ke dt05_e.img…bukan kesitu.. yg benar ke dt00_e.img… maaf atas kesalahannya…
Correction .. callnames installed in this tutorial there is a little mistake on the copy to folder … in the video, I have copy seems to dt05_e.img … not over there .. distinguished to dt00_e.img … sorry for the mistakes …
nb. Ikuti tutorial sesuai urutan diatas saat praktek..
nb. Follow the tutorials in the order above current practice ..
Pasword rar :  pes.animeleague.7