June's Face pack PES 2014 by Spiritusanto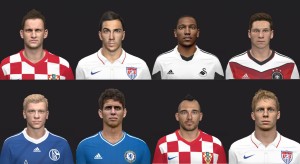 Please apply settings to better result ingame (if some bugs dont hesitate to report me for fixes and updates).
Cassano,Azpi and Luiz gustavo needs some work, so i cannot release them .
Thanks to Tuni, M4rz, Hawke, Mariomilan, Nevo, Acetorres, HD, Rizky, sebmeissner, chrisi20 and few other who follow my progress.