Januzaj Face By KarkZ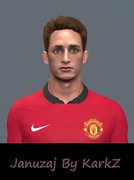 Thanks to "sxsxsx" for Amazing tool.
Thanks to "tunizizou" for texturing tutorial.
1. Download and install FileLoader made by jenkey first. If you already have it, skip this Step.
2. Extract folder Ben Yedder to C:\Program FilesKONAMI\Pro Evolution Soccer 2014\FileLoader\GDB\face.
3. Add this line to your map.txt in face Folder :
player=57469,"Januzaj" ( if you Pes Edit patch )
4. Ingame Edit Physique.
5. Thanks For Download & Enjoy.