PES 2013 Indian Team Mod by physicist3d
I'am a great fan of Konami's PES serie. I played it from the pes 2006. But My nationality is Idian and there is no Indian team in Pes 2013. So, i researched on internet but found nothing so i myself made this mod for pes 2013 which adds the Indian National Team And It's working fully. It used kitserver for adding kits and pes editor by [email protected] for editing team and player names and the emblem also. I just wanted to share this mod with others and help other people if they are facing same problem.
Here is a screenshot which shows Original Kits and Real player names: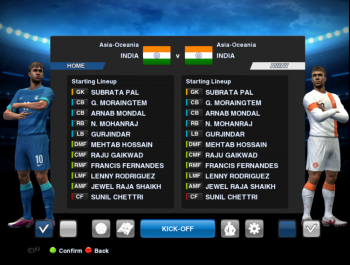 Features
1. Correct and updated team kits made by HenriikeTW for india 2013-15.
2. Correct player names and positions.
3. Correct emblem of India.
Installation Instruction
1. Copy the 'kitserver13' folder and paste it in the pes 2013 main directory.
(note – the folder should be in the same directory as pes2013.exe, if you are not able to copy it correctly, then make help of kitserver's help page)
2. Open manager.exe, then select the pes2013.exe and click on attach.
(for this step also you can see the kitserver's help page for more advice)
3. Copy the 'save' folder from resources and then paste into your pes documents directory, click on replace files if asked.
(The document directory is in – "Libraries\Documents\KONAMI\Pro Evolution Soccer 2013")
4. Just Run the game and enjoy
CREDITS
This mod is presented for you by physicist3d
NOTES
If you have problems in installing Kitserver please refer to their original help documentry, If still you are not able to install that's not a big problem because kitserver is only for kits, If you are not using it still you will get correct team and player names and emblem of team.