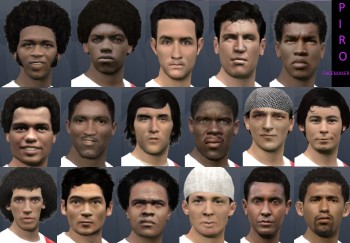 Cubillas, Chumpitaz, Oblitas, Uribe, Seminario, Sotil, Solano and a lot more. Only legend i didn´t create is Cesar Cueto (already had a face for him). You can find inside each player´s file a txt with the correct skin color to match his body.
If you want to view my work (over 200 unique legends) you can visit my facebook page:
https://www.facebook.com/Piro-Facemaker-...526907391/
Feel free to use any of my faces on your patch as long as you give me credit.
Please respect the links.
Link:
http://ouo.io/GjF24N