Posts tagged "Wales"
---
WE ARE THE GAME4V TEAM
Features
- Viet Nam National Team Added
- New balls with preview and names
- New Up-to-Date Tranfers all leagues with Offical Patch 1.20 Data
- All Player Names changed to " Low Case "
- Updated Player Stats & Appearances Others Teams
- Duplicate Players Removed
- Real Name For All Players Including Classics
- Real Name For All Competition
- Full Bundesliga with 18 teams
- Original Faces Relink Bundesliga Player
- New logo Style Own 64×64 and 128×128 for all Teams
- Created Missing Players EPL
- Unlock all classic teams and players
- Added Extra 16 National Teams and 2 Champions League Teams: Chelsea & Arsenal
- All Kits GDB For All Teams, Correct Numbers and Collar
- New Boots with Previews
- New Banners For Viet Nam and all teams National + Club
- Stars Sports Scoreboard with Game4v Flash Replay
- New menu Adidas, Nike only available English
- Easy Install ( Expert Version and Install/Uninstall Version )
- List Team Game4V Patch
Extra Teams :Angola, Guinea, Mali, Marocco, Honduras, Uzbekistan, Trinidad-Tobago,Bolivia, Venezuela, Bahrain, Iraq, Kuwait, North Korea, Oman, Qatar, Syria, Chelsea & Arsenal ( Champions League Teams )
Europe: Austria, Belgium, Bulgaria, Croatia, Czech, Denmark, England, Finland, France, Germany, Greece, Hungary, Ireland, Israel, Italy, Netherlands, Northern Ireland, Norway, Poland, Portugal, Romania, Russia, Serbia, Slovakia, Slovenia, Spain, Sweden, Switzerland, Turkey, Ukraine and Wales
Africa: Cameroon, Egypt, Ghana, Ivory Coast, Nigeria, Senegal, South Africa and Tunisia
America: Canada, Costa Rica, Mexico, USA, Argentina, Brazil, Chile, Columbia, Ecuador, Paraguay, Peru and Uruguay
Asia/Oceania: Australia, China, Iran, Japan, Viet Nam, South Korea, Thailand, UAE
Premier League: Arsenal, Aston Villa, Blackburn, Bolton, Chelsea, Everton, Fulham, Hull, Liverpool, Manchester City, Manchester United, Middlesbrough, Newcastle, Portsmouth, Stoke, Sunderland, Tottenham, West Bromwich, West Ham and Wigan
La Liga: Almería, Athletic Club, Atlético, Barca, Betis, Depor, Espanyol, Getafe, Gijon, Huelva, Real Madrid, Malaga, Mallorca, Numancia, Osasuna, Santander, Sevilla, Valencia, Valladolid and Villareal
Other Teams: Anderlecht, Brugge KV, Dinamo Zagreb, Slavia Praha, Brondy IF, Copenhagen, HJK, Olympiacos, Panathinakos, AEK Athens, Rosenborg,Sporting Listbon, Steaue Bucarest, Benfica, Porto, Celtic, Rangers, CFR Cluj, Basel, Hammabry, Beskitas, Fenerbahce, Galatasaray, Dynamo KIV, Boca Juniors, River Plate, Internacional, Hajduk Split
Bundesliga: Berlin, Bielefeld, Bochum, Bremen, Cottbus, Dortmund, Frankfurt, Hamburg, Hannover, Hoffenheim, Karlsruhe, Köln, Leverkusen, Mönchengladbach, Bayern München, Schalke, Stuttgart and Wolfsburg
Preview:
How to Install:
* Expert Version
-Delete all kitsever folders and saves folder ( back up your ML, BAL file first !! )
-Copy kitsever folder from this patch to where you installed PES 2009
-Click setup.exe
-Copy save folder to My DocumentsKONAMIPro Evolution Soccer 2009
-Copy chants to cs0d.img folder
* Install/Uninstall Version
-Run setup.exe
-Wait For Several Minutes to extract files
-Click Finish Button
-When the kitsever dialog start, click "Install"
-Copy all files in folder "Game4v Patch" to your own folder "save" in My Documents
-Play PES2009 from desktop
Caution ! : You must update KONAMI Offical Patch 1.20 before use this patch
Kits : Diablos, pesconmebol, Flisak, OPM, Asiat, Eleanor, BigBoss, Promitheas, F12, Dawqo19, Billy, Simonhibsey, alen_petrin, el_gordito, PHCOGL, VinVanDam13, SiRRi, Dimas Almarza, FrankTitas
Faces : Carlito1985,Anegor, qiangowen, PG_15,SKILLS_ROONEY,apatsi20, joni_lomas, MUFAN, DMD, Ragg, haka2646, Danielinho, Mystiq, 4DNossy, mini1860, Sergio_LP, Andrews, Jotta17, Serguei75, Kiboo, ElFluppe, Szolapas, bjk076, valfourrecity, Roobydal, Alahly man.
Badges : Tiffossi, Ariel Santarelli
Scoreboard : Timo The Owl
Sandbags removed : Ninuzzu
Adboars : Arquero7171,Ninuzzu
Players Cursor : Hawke
Balls : Alex_10, Skills_Rooney,arctic-monkey,pablo109,SG,Matte85sp
Boots : Paul81118,blingbling,el_gordito
Chants : gigimuralla
Kits Relinker : Stellios
FHEI ( Face Hair Importer Exporter ) : Skunk ( and little Skunk)
Kit Server : Juce and Robbie
AFS Explorer : dte-ng.issextreme.net
PRO-EVO Editor : Goldorakiller
PES 2009 Editor : w!Ld@
Game Graphic Studio : Obocaman
Game4V Team
:
nova_2oo2, MickyNQN,quan555, hell_angel2508, tienloc183, YoungBuck, knightck55555, hell boy , Mkizzle, hp_3232
,
dai1192
…
+4 EXP
More Tags :
how to uninstall pes patch, pes 2012 uninstall, how to uninstall pes 2013 patch, uninstall pes 2013, how to uninstall fire patch, pes 2012 uninstaller, how to uninstall patch pes 2013, pes 2011 uninstall patch, how can delete pes 2009, how to uninstall pro evolution soccer 2009, pro evolution soccer 2012 uninstall, Pes uninstall, remove pro evolution soccer 2012, uninstall and install patch pes 2013, uninstall pes 13 patch, uninstall pes 2013 patch vietnam, uninstall pes2011, uninstallan pes 2009, uninstaller pes 2012, pes how to uninstall patch
Categories: PES 2009 Patches Tags: AFS, Africa, America, Angola, Argentina, Ariel Santarelli, Asia, Athletic Club, Australia, Austria, Bahrain, Bayern Munchen, Belgium, Berlin, Bolivia, Brazil, Bulgaria, Bundesliga, Cameroon, Canada, Chile, China, Columbia, Copenhagen, Costa Rica, Cote d'Ivoire, Croatia, Denmark, Dortmund, Ecuador, Egypt, Europe, Finland, France, Frankfurt, Game Graphic Studio, Game4v, Germany, Ghana, Greece, Guinea, Hamburg, Hannover, Hoffenheim, Honduras, Hungary, Iraq, Islamic Republic of Iran, Israel, Italy, Japan, Karlsruhe, Kuwait, Köln, La Liga, Leverkusen, Liverpool, Low Case, Malaga, Mali, Mallorca, Marocco, Mexico, Mkizzle, Mönchengladbach, National Team, Newcastle, Nigeria, Nike, North Korea, Northern Ireland, Norway, Numancia, Oceania, Oman, Original Faces Relink Bundesliga Player, Osasuna, Paraguay, Peru, Poland, Porto, Portsmouth, Portugal, Premier League, Qatar, Romania, Russia, Santander, Schalke, Senegal, Serbia, Sevilla, Slovakia, Slovenia, Sony SONY (KI-V) ASSY (S) Sony Camcorder, South Africa, South Korea, Spain, Stuttgart, Sunderland, Sweden, Switzerland, Syria, TRINIDAD, The Netherlands, Trinidad-Tobago, Tunisia, Turkey, UAE, United Kingdom, United States, Uruguay, Uzbekistan, Valencia, Valladolid, Venezuela, Viet Nam, Villareal, Wales, Wolfsburg, Zagreb, editor, epl, ireland, player, pro evo editor, thailand, ukraine
PS2 & PSP Ultimate Master League Option File (inc Champs League Teams) PES 2009 v2.0
From the peeps who brought you this option for file for 2008, I now present you with the PS2 & PSP Ultimate Master League Option File v2.0 for PES 2009
Base File a mixture of kenlee_wd326 & Elgens V2 option file.. (credit where credit is due)
Features…
As well as all the Champions league teams, the option file now includes a total of 5 Bundesliga Teams and various other new teams…
V2.0
-Player Database Structure Completely reworked, for the Ultimate Master League Experience
-Classic Players moved to edited National slots, to keep the classic team format (they can no longer be bought in the master league, but can be played in classic team format)
-Classic teams now with new retro kits, line ups and formations.
-Old Classic Players overwritten with under 21/23 players (credit to Konami Rules for U21/U23 Player Structure)
-Retired/Classic Shop players Overwritten with many new players from around the world (credit to Konami Rules, PES Upgrade & hammer 80′s papadimi option file for some of the players)
-Many new players created and added to free agents including young and old.
-Reviewed Stadium Names and allocation to all teams (credit to JoeyH for some of the work)
-Tweaked some kits… National and Club… Wales now have the 08/09 official kit..
-few minor transfer updates
V1.6
-Moved Bate Borisov & Replaced over HJK helsinki
-Added Hertha Berlin including players, appearances, Kits & line up's (Replaced Old Bate Borisov [Previously Boca Juniours])
-Tweaked All unlicensed National Kits and some club kits to make them look more accurate.
-Updated transfers for Greek teams, including missing players (credit to hammer 80′s papadimi option file).
-Stats tweaked for 1 or 2 English league Players, such as Arsenal, Hull City, Liverpool, etc.
V1.5
-Moved Anorthsis & Replaced over Gothenberg
-Moved Wolves & Replaced over AIK
-Added Cska Moscow & Hamburg including players, appearances, Kits & line up's (Replaced Old Wolves [Previously Hammerby] and Old Anorthsis [previously River Plate])
-Updated Transfers, Added new players and updated formations for the Dutch Eredivision (Credit to Big Boss for all the work)
-Tweaked a few Kits
-Fixed some minor errors
V1.0
-Correct Club names,
-Correct Stadium names,
-Correct Cup names,
-Correct Player names,
-All club names & player names lowercase
-Updated Transfers,
-All Duplicate Players Removed
-All Unlicensed kits fixed, including English, Spanish (100% my own work) and National (credit to Chris pele for some of the English kits)
-Updated All Team Flags
-Optimized emblems and Logos.. Every unlicensed International team now has a Team Emblem (as well as kits)…
-Added All Champions League Teams, AAlborg, Bate, Anorthsis including players, appearances, Kits & line up's (replaced Brondby IF & Boca Juniors, River Plate)
-Added German Teams, inc Werder Bremen, Bayern Munich & FC Schalke including players, appearances, Kits & line up's(replaced internacional, PES UNITED & WE UNITED)
-Added Birmingham City and Wolves to enhance a British Master League Experience including players, appearances, Kits & line up's (replaced Crvena Zvezda (red star) & Hammerby)
-All Goalkeepers have long sleeves as default
-Updated Boots (similar boots as to that of the PES2008 option file)
-Added many players to free agents, ie Boca, River Plate, internacional, etc
-Some Missing Players Created…
-Some appearances updated
-PES Shop Unlocked with 800 PES Points.. (PSP & PS2)
Downloads All Versions ES-EN-IT-PT-DE-FR inc PAL PSP, XPS, MAX and Bin & Cue's

More Tags :
pes 2012 ps2 atualizado, pes 2012 psp, master league pes 2012, option file pes 2012 ps2 v1 0, pes 2009 champions league, face pes 2012 ps2, pes 2012 psp kits, pes 2013 sleeve patch, pes 2009 psp, pes 2012 david villa, pro evolution soccer 2012 ps2 option file, pes 2012 ps2 database, pes 2012 ultimate psp, liverpool pes 2013 ps2, pes 2008 ps2 ultimate patch, pes 2009 master league editor psp, pes8 option file, pespatch liga master, playstation 2 pes 2008 master league cheats, savedata pes 2012 ultimate psp
Categories: PES 2009 PS2, PES 2009 PSP Tags: Big Boss, Birmingham City, CSKA Moscow, Champions League, Champs League, Correct Club, Correct Stadium, Hamburg, Hertha Berlin, Liverpool, Structure Completely, U21/U23 Player, Wales, player, ps2
Kit & Relink = PES2009 Kit-Patch 0.60
Option = PROEVOLUTI SUPERPATCH 0.5
Replay & Flash Screen Logos By Hawke
Shadow Style Emblems by Tiffosi
Pes2009 PS style By wkt1
Pes2009 Texture By BlingBling V1
Champions League Menu & Scoreboard
Flags cornerkick Champions League by SKILLS_ROONEY
Bootpack & Ballpack by SKILLS_ROONEY
+ Update
New Relink
- Wales
- Classic Argentina
- Classic Brazil
- Classic Italy
- Classic Netherlands
- Unlock Classicteam 100 %
* Please Remove this files in cv_06 on your Assemble patch:
kits-national-thai_8342
kits-national-thai_8343
kits-national-thai-font_3291
kits-national-thai-font_3292
kits-national-thai-font_3293
kits-national-thai-font_3294
kits-national-thai-num_4315
kits-national-thai-num_4316
kits-national-thai-num_4317
kits-national-thai-num_4318
More Tags :
logos pes 2009 pc, parche 2012 de pes 2009 pc, pes 06 patch 2008, pes 2009 assemble patch, ProEvoluti Superpatch 2 0 pes 8
Player: (137, no)


Keeper: (137, no)

More Tags :
gales pes 2013, wales national team kit pes 13
Menu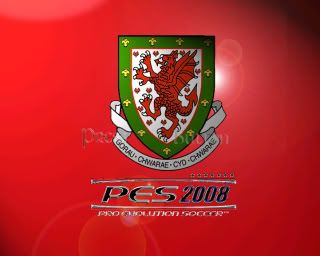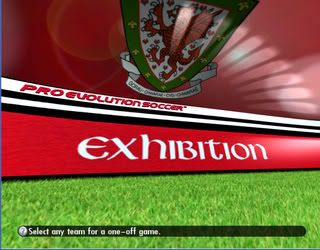 Kits: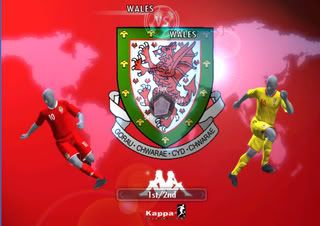 Faces:
Wayne Hennessey – Wolves
Danny Gabbidon – West Ham
Lewin Nyatanga – Derby
James Collins – West Ham
Chris Gunter – Tottenham
Carl Fletcher – Crystal Palace
Owain Tudur Jones – Swansea
Carl Robinson – Toronto
Joe Ledley – Cardiff
Jason Koumas – Wigan
Simon Davies – Fulham
Freddy Eastwood – Coventry
David Cotterill – Wigan/Sheff Utd
Ched Evans – Man City
Rob Earnshaw – Notts Forest
The above will be improved upon once better (larger) photos are obtained. Haven't bothered with hairs as yet but I'll make them available when I get round to it (as in…learn how to do it! :-pp).
Bellamy, Bale, Ramsey, Easter, Ricketts, Eardley, Edwards, Myhill, Vaughan, Vokes, Price and Morgan in the pipeline. Also, not turned my hand to stadiums yet, so if anyone has a PES2008 Millennium Stadium they might want to donate…don't fight the urge!
Download links:
http://rapidshare.com/files/135042822/Faces.zip.html – Facepack
http://rapidshare.com/files/135042166/Kits.zip.html – Kits
http://rapidshare.com/files/135042482/Menu.zip.html – Menus
More Tags :
pes8 edit option file 2013, download pes 8 zip, Owain tudur jones pes edit
Categories: PES 2008 Patches Tags: Cardiff, Carl Robinson, Ched Evans, Chris Gunter, Coventry, Crystal Palace Owain, Danny Gabbidon, David Cotterill, Derby, Easter, Freddy Eastwood, Gunter - Tottenham Carl Fletcher, James Collins, Jason Koumas, Joe Ledley, Lewin Nyatanga, Notts Forest, Owain Tudur Jones, PES2008 Millennium Stadium, Rob Earnshaw, Simon Davies, Swansea, Toronto, Wales, Wayne Hennessey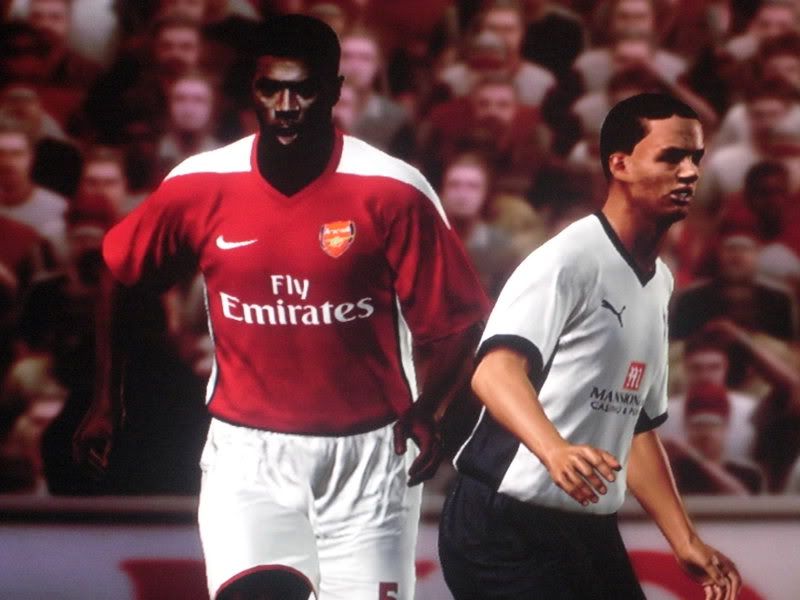 Added missing players Manucho, Darron Gibson (Manchester United) Scott Sinclair (Chelsea) Jerome Thomas, Nadir Belhadj (Pompey) Sergi Busquets, Victor Sanchez, Pedrito (Barcelona) Glauber (Manchester City) Sebastien Bassong (Newcastle) Cesar Sanchez (Spurs) Tyrone Mears (Marseille) Kader Mangane (Rennes) Marcelo Estigarribia (Le Mans) Mathieu Berson (Toulouse) Yohan Mollo (Monaco) Madjid Bougherra (Rangers)
-Multiple faces creations and scans (including Carlos Vela, Torsten Frings, Vincent Kompany, Miroslav Klose, Mark van Bommel, Amr Zaki and loads more)
-Added new completed Wales away kit, tweaked Aston Villa home and away shirt sponser and updated Russia shirt logo and markings
- Missing transfers fixed (Segunda Castillo – Everton, Maurice Edu – Rangers)
-Tons of player hair, accessory, shirt name and boot updates/fixes
COMING IN THE NEXT UPDATE: –Add the 4 or 5 missing international kits (Thailand, Israel, UAE, Saudi Arabia etc) This will mean that every single club and country in the game will have full, complete kits
Credit:
Mike – For the base file to build on (PESFan)
heatuk10, trilogy, brownus and arsenald – Most English badges and sponsers (PESGaming)
shandogg – All chants (PESFan)
Instructions:
1. Unzip file using Winzip or Winrar
2. Copy PS3 and MUSIC folders to flash dri've
3. Place flash drive into PS3 and copy all the data to your console. If you can't see the files, press triangle and select 'Display all'
DOWNLOADS:
These first set of links contain the entire latest version of the option file and the chants pack
RAPIDSHARE: http://rapidshare.com/files/15859627…File_V1.03.rar
(I recommend using Rapidshare. I have a premium account which allows the best download speeds/more mirrors etc)
FILEFRONT: http://files.filefront.com/Von+Optio…/fileinfo.html
These second set of links contain just the latest 'EDIT DATA' file and any new kits/face scans that may have been added to the file. ONLY USE THESE LINKS TO DOWNLOAD IF YOU HAVE DOWNLOADED ALL PREVIOUS UPDATES. IF YOU HAVE MISSED ANY PREVIOUS UPDATES, PLEASE USE THE ABOVE LINKS
RAPIDSHARE: http://rapidshare.com/files/15859466…pdate_Only.rar
FILEFRONT: http://files.filefront.com/V103+Upda…/fileinfo.html
Previous files/updates:
V1.2 http://rapidshare.com/files/15805030…V1.02.rar.html
V1.1 http://rapidshare.com/files/15849920…_File_V1.1.rar
V1.0 http://rapidshare.com/files/15849835…_File_V1.0.rar
More Tags :
ps3 pes 2012 option file, pes 2012 v1 03 ps3, parche pes 2013 ps3 v1 03, option file pes 2013 ps3 new facescans, pes 2013 v1 03 ps3 option file, pes 2010 1 03 ps3 option file, pes 2013 ps3 v 1 03 option file, pes 2013 ps3 patch 0709, file option pes 2011 phien ban v103, Patch PES 2013 no PES 6 - By Glauber(1), option file chelsea for pes13 for ps3 uniform, v 1 03 pes 2013 pendrive ps3
Categories: PES 2009 PS3 Tags: Barcelona, Carlos Vela, Cesar Sanchez (Spurs) Tyrone, Darron Gibson, Israel, Kader Mangane, Madjid Bougherra (Rangers), Manucho, Marcelo Estigarribia, Mark van Bommel, Mathieu Berson (Toulouse), Maurice Edu, Miroslav Klose, Monaco, Nadir Belhadj (Pompey), Newcastle, Russia, Sanchez (Spurs) Tyrone Mears (Marseille), Saudi Arabia, Scott Sinclair (Chelsea) Jerome, Sebastien Bassong, Sinclair (Chelsea) Jerome Thomas, Torsten Frings, UAE, Victor Sanchez, Vincent Kompany, VonMuff, Wales, Yohan Mollo, player, thailand
- Orisinal Face German Team
- 90% Edit Face and Name Senegal Team
- Edit Face National team Bulgaria,Wales (Berbatov,Bojiniv-Bellamy
- All kits,emblem,and logos PRIMEIRSHIP(only Tottenham-Sunderland)
- Edit kits 90% La Liga
- Bayern Munchen In PES United
- Bremen in WEU United
- DOWNLOAD:
http://files.filefront.com/PES+2009+…/fileinfo.html
http://www.mediafire.com/?5j2xdn4lqlw
- Mohon Maaf Jika ada yg merasa di rugikan dengan OF PES 2009 yang
saya bikin
- Selamat Bermain PES 2009 GAME OF THE BEST (THX FOR ALL PEOPLE)
More Tags :
emblem sunderland in ps2 pes 2013, pes 13 weu united