PES 2014 AS Roma Home Kit

in GDB

by ABIEL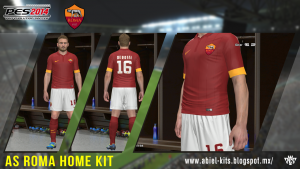 PES 2014 WC #3 FacePack by Rednik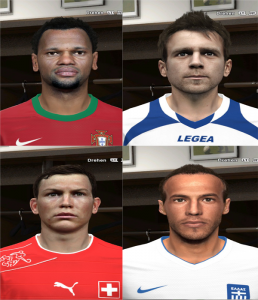 PES 2013 Bosnia & Herzegovina WC 2014 Kits by Leezero – Download
PES 2013 Real Madrid 2014-15 Third Kit Fantasy by Tanir – Download
PES 2013 Nike Tiempo Legend V 2014 World Cup Boots by adrianselma12 – Download
PES 2013 Paris-Saint Germain 2014/15 Home Kit by Predator – Download
PES 2013 Spain Third Kit WC 2014 by Bryan9 – Download (Password: bryan9 )
PES 2013 Chants Pack JV Ultimate 2014 – Download below.
PES 2013 Mega Facepack by sotirakis – Download (includes Vukic, Athanasiadis, Salpigidis, Stoch, Lucas, Katsouranis, Kace, Tzavellas, Kitsiou, Vitor, Koulouris, Glykos, Insaurralde, Skondras, Oliseh, Lino, Maduro, Tziolis, Karnezis, Tachtsidis, Samaras, Koutroubis, Fountas)
PES 2013 Kits Futebol Clube Do Porto 2014/2015 by Eonik – Download
PES 2013 TiempoPO V by adrianselma12 – Download (All Credit for MultiColor)
PES14 FINAL Gameplay [nesa24]
ABOUT:
FINAL Gameplay patch focused on achieving NORMAL gameplay level together with PES community (based on posts on PES-Serbia.com and Evo-Web.co.uk)
Level of desired gameplay is between PES4 and PES6
Features list:
Improved GOALKEEPER
Improved PLAYER CONTROL

No delay in control
Player now turns faster
Player now receive ball more fluidly
More dogfight for ball

Improved TEAMWORK

Reaction of player in both attack-defence
Improved support when doing counter-rattack

Improved BALL MECHANICS

Ball weight and friction
Improved distance shots

Improved REFEREE

Referee now allows more [DOGFIGHT] for ball

Improved AI

AI now has more ball focus
More attack planing
AI has focus to stop attacks at center of field

and more small gameplay changes to make game more fluid
Requirements
Pro Evolution Soccer 2014 Face Pack v.4 by shamrik_gunners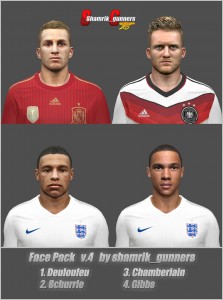 Nicolas Lombaerts PES2014 Face by ZIUTKOWSKI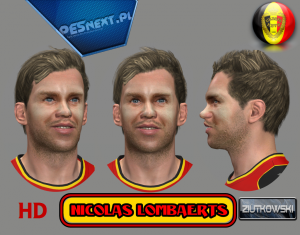 Hi #PES fans!
The Data pack 7 (PS3, Xbox 360 and PC) is coming for #PES2014 next week! Are you ready?
DLC 7.0 will include the dutch kit and more faces.
PES 2014 Paris Saint Germain Kits 2014-15 By S-Raw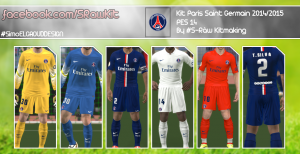 PES 2013 Brazuca Final Match Ball WC 2014 by xmaz