27 Faces for Pes2014 Packed By HICHEM TIGS
Credits to their facemakers.
Brasileirão Série A 1.0 adboards by sm93
These are the static Brasileirăo Série A adboards reproduced almost 100%. Took a long time matching the exact position of each board and creating them. Enjoy!
Use it with fileloader, and don't forget to check the README for installing instructions.
PES 2014 Kits Barcelona GDB
Change Log v1 :
Compatible with PES2014 File Loader beta 1.0.1.8
Configuration :
1. Copy folder "LaLiga" to GDB Folder in FileLoader
2. Edit "map.txt" in GDB folder and add team=108, "LaLiga\Barcelona" then Save
3. Enjoy
[PES 2013] PesMaz Mini Ball Pack v.1 By MAZ
season 2013-14
Description :
This balls compatible For Pes 2013 And Pes 2012
* Adidas Torfabrik 2013-14
* Adidas UEFA Europa League 2013-14
* Adidas UEFA Champions League Finale 2013-14
* Adidas UEFA Champions League Finale Powerorange 2013-14
Everyone enjoy!
Hulk Face by A L I R 1 1 0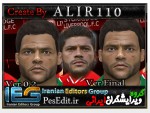 All Stadiums Greener Turf in PES 2014
all the stadiums all weathers all times in one pack
little more greener but not too much
also locked stadiums included
Bütün stadyumların bütün zamanları ve mevseimleri olarak eksiksik çimleri tek pakettedir. Ayrıca kilitli diğer iki stadyumuda kapsar. Resimde sadece iki stadyumdan örenek verilmişdir hepsi aynı kalitededir.
PES 2014 Graphic pack
new triangle cursor and stamina gauge
new power bar
slim offside lines
no ball cursor
no freekick tracks like child games
no penalty cursor
PES 2014 Old Trafford Turf v.4 by chrismas [update october 21]
Isco Face By Adit25 For PES 2014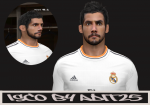 Credits :
- Facegen Modeler 3.5 & 3.1
- Tunizizou Tutorial
- Face/Hair Modifier by Suat Cagdas A.K.A sxsxsx
- File Explorer by jenkey