Kits real madrid 2014 pes 2013 ps2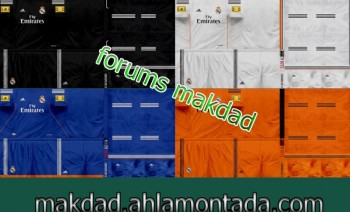 sendspace.com ulp2ro
Atalanta and Juventus next year kits PES 2013 

by VinVanDam13
Parche Liga Mexicana Para Pes 2013
Creadores Del Parche: wemexico.net
PES 2013 Data Pack 6.00 has been confirmed by Konami to be released on Tuesday 21st May.
According to PES European Community Manager Adam Bhatti, next week's DLC will be there as a fix for users experiencing Data Pack 5 installation issues.
@bigol83 @onlyproevo it's a fix to some issues people were having with installing previous data pack. Nothing to shout about, so we didn't.

— Adam Bhatti (@Adam_Bhatti) May 16, 2013
Konami have said users must ensure to install the latest patch (1.04) before implementing PES 2013 Data Pack 6.00 that will not add any new boots, footballs, kits or transfer updates.
Mini Facepack PES13 by Davi_R7
C.Ronaldo

Lewandowski

T.Muller
FC Bayern Münich 13/14 GK preview by Edhem SESE
AC Milan 2013-2014 Kitpack by ogad007
Unico La Plata For PES 2013 by ema1993
.Put files in dt07.img folder of your kitserver
.Replace to Estadio Amazonas
.This stadium includes preview, so put file UNNAMED_1289 in dt06.img folder of your kitserver
.Includes GDB version so, put the folder "Unico La Plata" in GDB/stadiums, then open map.txt, increase in 1 the stadium.count, and in the section [stadium name] add the corresponding number with the name Unico La Plata.
.thanks to: sxsxsx, barcafan, n4d4
.follow me on facebook or twitter.
Olympique Marseille GDB Player Kit 2013-14 by diavolo86
Bordeaux Away Kit 2013-14 by Blàck&White
Template by SABZ