PES 2014 Incyte Ballpack by Txak
Little ballpack with 5 Incyte balls.
Before it's needed to install the expanded slots files.
PES 2014 File Loader 1.0.0.8 Beta Fix by Jenkey1002
Added options :
- Fix performance : increase FPS & ingame performance
- Fix responsiveness : improve control responsiveness
Note : feature fix responsiveness is incompatible with online playing.
PES 2014 Commentary Português do Brazil (Brazillian)
How to install :
Copy to \KONAMI\Pro Evolution Soccer 2014\Data and enjoy!
PES 2014 Camera Settings 1.0 by MxSoNiC
description:
Tool for PES 2014 Camera Settings.
supported platforms:
1. PC only
features Settings:
1. change Camera Position ( Height, near and far )
2. change Camera Angle
3. change Camera Angle Modulator
requirements:
1. installed .NET Framework (at least version 4.0)
how to use:
1. open PES 2014 EXE File
2. open system.bin (from C:\Users\Documents\KONAMI\Pro Evolution Soccer 2014\save)
3. change your settings
4. push "accept" Button
5. save File´s
thanks to:
PSO Edit Team, Juce, Ariel, jenckey, cabry, moddingway Team, pescorner Team
Special thx goes to cabry for your crypting tool.
PES 2014 Nike Gloves by xoxoxi
Is necessary to install file loader.
Pro Evolution Soccer 2014\FileLoader\pes14_win_dat\common\character1\model\character\accessory
If not there create these folders and copy files from download.
PES 2014 San Siro & Giuseppe Meazza v.1 Turf

by chrismas
Installation:
- extract the archive and copy the "pes14_win_dat" folder into your FileLoader folder.
Credits:
- chrismas for the Turf texture
- KO as I've used his wide_n1.dds and wide_n2.dds
PES 2014 Expanded Balls Slots (19 New Slots & Balls Unlocked) by Txak
Unlocked balls :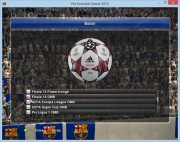 New balls in ball preview :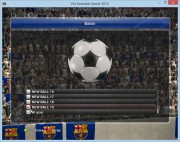 New ball ingame :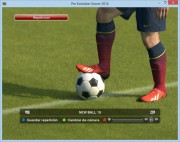 Download :
PES 2014 Actual Boots Pack by Laim
What you get:
- 29 actual High quality boots in game
Huge Gratitude to All whose work helped me in the preparation of this release.
Special Thanks to Jenkey for the excellent "File Loader" and "File Explorer".
at first
- download the latest Jenkey's "PES2014 File Loader" (pack works fine with v.1.0.0.3 , 1.0.0.4).
- install it in the main game folder
for example: Program Files\KONAMI\Pro Evolution Soccer 2014\
then
- put content the same place
- agree with the merger
- enjoy
update :
Changelog of 8 boots:
- some correction for more authenticity
installation :
- replace in main pack
MyPES14 Patch 1.1 [For PES 2014]
Today, we've done uploading the latest MyPES14 v1.1. Please make sure that you have the latest DirectX to run this patch. You can download this patch without downloading MyPES14 Patch 1.0.
MyPES14 Patch 1.1 contains :
New launcher
New font
New File Loader
New ref kit
New PES media
SweetFX setting
Updated cursor
New HD boots preview
New boots pack
All of this, Thanks To :
Jenkey1002
Nimar9
Hawke
Stahuuuu
Arsenal4Life
Ron69
Download MyPES14 Patch 1.1 [For PES 2014]:
Please visit: my blog.
PES 2014 Azadi Stadium Tehran By PesCity.com
Hi, all.
After a long day, got into Azadi stadium to play.
Thanks to my good friend SXSXSX. Sorry if it was bad. I will catch up next.
Turf Builder: Hamid2000
Preview :
Please visit our homepage: here.
Link: coming soon.
Thanks: SXSXSX, Jenkey, blender, autodesk, Pouyavatani, Hamid2000 and rhino.