PES 2014 Fernando Torres Face by sunbast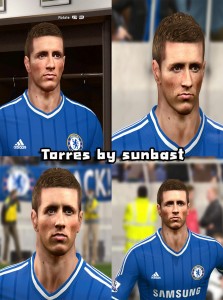 PES 2014 Spartak Moskva EL version GDB by Tunevi
PES 2014 BPL Mini Pack Vol. 3 by Hawke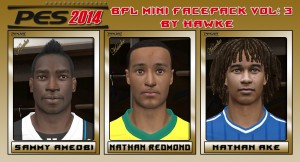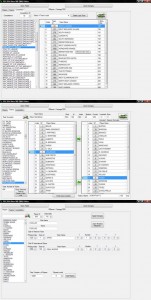 This is our last contribution, was working on this to learn more about programming, I was thinking not to share it but Tester´s told that all works fine and I feel like it´s a waste not to share it, maybe someone find it useful. Is first and last version. As I said is a goodbye.
God save the queen and MR Starvin!
DINOTOOL.
A tool to manage pesdb folder, files that could be managed.
- Player.bin
- PlayerAssignment.bin
- Team.bin
- CompetitionRegulation.bin(Only for read competitions)
- CompetitionEntry.bin
All this files Must be present on folder.
What could be done?
- Manage competiton, leagues, cup, supercup etc etc., add or delete teams.
- Manage Teams. Add teams (clone an Existing one) Rename, tranfer players, Change Name, zone, Short name, etc etc.
- Manage Players. Change names, tranfers, dorsal, Id, Nationality etc etc. And Add players too.
Don't forget to push apply Changes and Last Save Changes.
Always make a backup of your files (and if you use option file you must create a new one after edit).
Credits. Goldorakiller, RadiocaseHead, CarluchiRock, Tibinator, Albiore and all people that share his Knowledge here in Evo and his discovers.
Benin International footballer currently playing for West Brom in the EPL.
Contenuto:
Selettore TPS Patch 2014
File opzioni aggiornato al mercato di gennaio 2014 (non è aggiornato nelle leghe brasiliane)
Compatibile con Patch KONAMI 1.04 e DLC 2.0
Corretti loghi squadre per Premier League e Liga Zon Sagres
Corretti Nomi falsi delle squadre
Aggiunta Bundesliga 1 in esibizione
Aggiunti kit per bundesliga 1
Più di 1000 volti corretti (Compresi anche quelli del dlc)
Corretti i nomi delle competizioni
Corretti loghi per tutte le Competizioni
Aggiunto stadio Santiago bernabeu
Aggiunto stadio Camp nou
Aggiunti nuovi kit per determinate squadre
Aggiunti nuovi palloni
Aggiunti nuovi scarpini
Aggiunti nuovi adboard
Nuova Playlist
Tatuaggi per alcuni giocatori
Aggiunti replay Premier league, Serie A,Bundesliga è Liga
Aggiunti Locket room
Aggiunti nuovi guanti per portiere
Caro Paolo, questa patch è per ricordati! So che non sarà bella e perfetta come la tua ma è un mio pensiero per non far morire il tuo ricordo e per non far dimenticare la tua magnifica patch!
Caratteristiche:
• Leghe Presenti nel gioco:
• Creato file autoistallante
• Creato exe parallelo
• Corretti i nomi di tutte le leghe e le competizioni
• Aggiunto un nuovo Locker Room
• Aggiunti i loghi reali per Premier League, Liga Zon Sagres, Bundesliga, Serie B e dei 4 gironi di Lega Pro (corretti i loghi per la Prima Divisione) + aggiunto il nuovo logo del Parma e per le nuove squadre di Champions League ed Europa League
• Aggiunte 29 squadre di Champions League e di Europa League mancanti (nome, logo, kit e valori)
• Aggiunti i loghi reali per tutte le competizioni
• Creata tutta la Bundesliga
• Creati i valori di tutta Prima Divisione ed anche della Seconda Divisione
• Creati valori per tutte le squadre di Serie B
• Corrette tutte le abbreviazioni delle squadre dalla Serie B alla Seconda Divisione
• Aggiunti 60 nuovi scarpini
• Corrette le esultanze di molti giocatori sia delle maggiori leghe europee che alcune di B e Lega Pro
• Aggiunti 19 nuovi palloni
• Fatti tutti i trasferimenti del mercato estivo per le squadre di Premier League e Serie A
• Estesa la serie B a 22 squadre
• Corrette le convocazioni e i nomi fake di tutte le nazionali
• Aggiunto il campionato Dilettanti con 20 squadre (solo 4 con nome e logo reale) e creati i valori per il Pordenone, Murano e Sambenedettese – GIOCABILE SOLO IN AMICHEVOLE
• Corretti i colori delle varie squadre di Serie B e Lega Pro
• Aggiunti nomi reali per squadre Premier League, Bundesliga e Liga Zon Sagres
• Corrette capigliature e carnagione ai giocatori di tutta la Serie B, Lega Pro Prima e Seconda Divisione
• Attuata la riforma di Lega Pro dal seconda anno di Master League
• Inseriti bottoni della PS3
• Aggiunte molte facce del DLC 2.00
• Corretti molti nomi sulle maglie
• Aggiunte le fasce dei capitani ufficiali per le competizioni europee
• Aggiunti i kit per tutta la Premier League, tutta la Bundesliga, tutta la Prima Divisione, tutta la Serie B, tutta la Liga Zon Sagres e molti per le nazionali e molte per le squadre di Serie A
• Aggiunti dei League Adboards per tutte le leghe
• Aggiunta una coreografia per lo Juventus Stadium
• Daytime Stadium shadows shallowing
• Aggiunte circa 400 facce (molte con tatoo originali)
PES 2014 Uhlsport Kickschuh Instinkt MD – Bianco/Rosso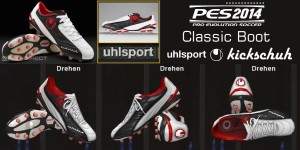 * Classic Boot by Ron69.
PES 2014 Facepack by Kairzhanov & Asep Maulana10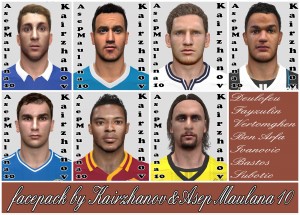 UPL Face Pack v.2 Pes 2014 by shamrik_gunners