FC Barcelona 1999-2000 GDB Kit Set by J Dilla

Real Madrid Fantasy GDB Kit by Kolia V.
PES 2014 Pack Faces LZS v1 by estica
André Almeida, F.Montero, Luisão and Rodrigo.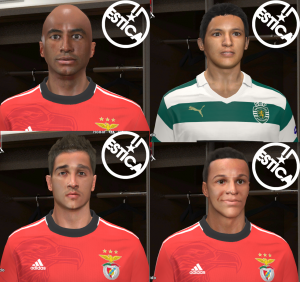 Pablo Zabaleta Face [Fixed] by Felotheone
[PES 2014] PES ITALY v0.3 by Blàck&White
- Fileloader v1.0.2.3
- Pes Italy Selector v0.1
- Exe parallel
- Add Real Kit for Premier league
- Add Kit for:Juventus,Inter,Milan,Lazio,Roma,Napoli,Barcelona,Real Madrid,Olympique Marseille(4°kit),Psv,Lazio,Fiorentina,Sporting Lisbona,Germany,Spain,Uruguay.Chile;Schalke,Cska,Zenit,Vitoria Setubal,Academica de Combra, Pacos de Ferreira,Livorno,Sampdoria.Belgium, Ukraine,Uruguay, Brasil,Mexico,Colombia,USA ecc…
- Add Adboards for all stadium
- Add Adboards for all team of Premier League and Juventus,Milan
- HD Turf for all stadium
- Add Ballapack with 19 ball for each League
- Sleeve Patches for Serie A,premier League,liga Zon Sagres,campeonato Of Chile
- Add BootPack with 60 boots
- Add Daytime Stadium shadows shallowing
- Add Ultra HD Skies
- Add 245 face(with Tattoos): Higuain,Isco,Handanovic,Modric,Flamini,Arteta,Ishak Belfodil, K.P. Boateng,Ramos,Suarez,Hazard,Gonzalo Higuain, Jesus Navas, Klaas-Jan Huntelaar,Mesut Ozil ecc…
- Add Hd Nets
- Unlocked Bombonera Stadium
- Add Stadium preview
PES 2014 Facepack N°5 By DzGeNiO

For Faces Request : click here.
Features:
- Change money in ML.
- Change focus points in BAL.
Tutorial:
(ML)
- Transfer your ML01.bin to PC.
- Open ML01.bin with Le Fluffie/Horizon and extract ML01.bin
- Open the program, choose the money you want or/and focus points, click in Hack button, select the extracted ML01.bin.
- Put ML01.bin again inside the ML01.bin with Le Fluffie/Horizon and put it to your console again.
(BAL)
- Transfer your BL01.bin to PC.
- Open BL01.bin with Le Fluffie/Horizon and extract BL01.bin
- Open the program, click load button choose the extracted BL01.bin, choose one option of 20 focus points or max players stats or change the name, click in Hack button.
- Put BL01.bin again inside the BL01.bin with Le Fluffie/Horizon and put it to your console again.
Obs: If your currency in ML is dollar, you need to change euro to dollar in the upper left corner.
Changelog:
v0.2
- Bug Fixes
v0.3
- Bug Fixes
- Added BAL Mod
- New skin
v0.4
- ML: Money working now in all currencies
- ML: Focus Points added
- BAL: Change name & tshirt name
- BAL: Change player stats to max
- Check update button
Team Editor Manager 0.1 beta by lagun-2 For PES 2014
Platform:
- PC
Description: you can create new teams
beta 0.1:
Edit the file .bin:
- CompetitionEntry.bin
- Player.bin
- PlayerAssignement.bin
- Team.bin
Team.bin:
- Reading of all teams in the files
Extra Features:
Add new teams
Add new players
Auto-create logos teams
Notes and Recommendations:
- This is a beta version and is being developed, so it can't work 100%
- The tool doesn't support auto unzlib, so before you open the file you need to use another tool
- Every time you want to modify or change a file, you need to register with the configurations
To do list:
- Fix bugs
- Fix add player/s
- Fix add new team
- Support and Guide
- Structure League
- Fifa 14 Converter
INSTRUCTIONS:
- First, make sure you have set the configurations
- Then click the "OPEN"
The files don't change EDIT.bin then every time you add a team, you have to recreate the EDIT.bin
Credits:
Designed and developed by lagun-2
Tutorial by teams Razib_46
Tutorial Structure league by rickrd0
Corner Flags HD For PES 2014 by Pesmonkey
Choose from one white and one flourescent. Based on real flags aka Wembley and other arenas.
* mods that use graphics switchers please distribute in your packs, just give credit.
World Cup 2014 Facepack vol.1 by Felotheone
player=41451,"Aranguiz"
player=32776, "Mati Fernandez"
player=42751, "Eugenio Mena"
player=55361, "Suazo"
player=32589, "Zabaleta"
player=34783, "Biglia"
player=7511, "Messi"
player=7104, "Robinho"
player=41425, "Edu Vargas"