PES 2014 BOOTPACK VERSION 6.0 BY RON69 RELEASED!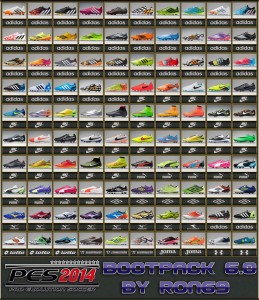 – 100 Boots
– compatible with PES edit Patch (tested with Version 4.2)
– compatible with other Patches ( not tested)
– all new Boots added
– updated Boots
– all Boots of Marty McFly removed (except 2x Magista, otherwise just edited boots with template)
– required the last FileLoader (Version 1.0.2.9-not included)
– works with KONAMI Update 1.12 and the last DLC
– NOT WORKS WITH KONAMI UPDATE 1.13! The last FileLoader Version is only for Konami Update 1.12.
* Please wait for new Version in the Jenkey1002's blog.
– correct Bootnames, Materials and Colors
Install:
If you already use a bootpack, delete necessarily the Folder "boots" in the FileLoader directory!!!
FileLoader\pes14_win_dat\common\character0\model\c haracter\
Then copy the folder pes14_win_dat in the rar Archiv in the FileLoader Directory. Overwrite / replace existing files.
Credits: Jenkey1002, Qinchao, Konami, WENS, thetrinity12, kevin_cd, saks07, scp4eva, PES edit, MartyMcFly and all Bootmaker / Editer
Special thanks to: thetrinity12 (SGangster) for the perfect PES 2013 Bootpack), Tunizizou, WENS, kevin_cd, Ignacio Herrera
Thank you for the excellent cooperation, help and support.
Unfortunately, I could not consider all requests. I have the pack so compiled that contains all the important boots and I have paid attention to quality and details. So I hope this has been my work and effort paid off and I could give you a little treat!
More Tags :
pes bootpack, pes 2014 bootpack version 6 0 by ron69, pes patch boots, bootpack pes 6 2015, boot pack 7 1 pes2014, download boots for pes 6, pes 2014 pc boot patch download, pes 2014 update boots, download 100 bootpack pes2014