PES 2014 World Cup Face Pack by Stels & shamrik_gunners & Kairzhanov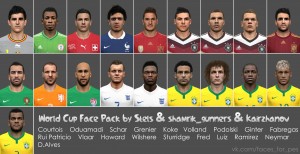 1) Download and install FileLoader. If you already have it, skip this point.
2) Add folder FileLoader into …/KONAMI/Pro Evolution Soccer 2014.
3) Add these lines to your map.txt in GDB:
player=40352,"Neymar"
player=44383,"Courtois"
player=38740,"Grenier"
player=4771,"Howard"
player=41082,"Koke"
player=34868,"Rui Patricio"
player=31483,"Vlaar"
player=7312,"Daniel Alves"
player=35207,"David Luiz"
player=9144,"Fred"
player=40075,"Ramires"
player=38594,"Wilshere"
player=61681,"Ginter"
player=6526,"Podolski"
player=37094,"Sturridge"
player=7959,"Fabragas"
NOT ID !!!!
player=******,"Odoumaui"
player=******,"Schar"
player=******,"Volland"
More Tags :
Pes 2014 world cup face pack by stels download, download facepack david luiz pes 14 world cup, face pes 2013 by stels, kairzhanov world cup facepack pes2015, world cup 2014 brazil face pack for fred