PES 2014 PC New Chants Bayern Munchen by Secun1972
Fix : at the end of the chants doesn't crash anymore.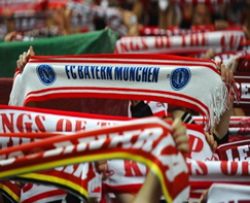 – Edited and adapted to the PES by me (Secun1972).
– New chants.
– 5 files hca -> 6 chants.
– Applies to any patch
Copy and paste files the hca within:
fileloader/pes14_snd/common/supporter/CHANT.awb
[plugin]
dll = Lodmixer.dll
dll = Speeder.dll
dll = KitLoader.dll
dll = Controller.dll
dll = Faceloader.dll
dll = VideoLoader.dll
dll = Gameplay.dll
dll = Match.dll
dll = Camera.dll
dll = SongLoader.dll
If the volume is too high you can always download it.
The game randomly select the songs.
More Tags :
pes bayern munchen chant, pes chants bayern