PES 2013 Players Stats Patch v6.2 by athanaric – Addon For PesEdit 6.0
+ Other Europe teams full transfer and stats update
+ Liga Adelante Switch with 3 teams from Liga Adelante ( Dep. la Coruna, Sporting Gijon, Recreativo Huelva ). Full transfer and stats update.
+ Complete Primera Division transfer and stats update
+ some players development adjustments
+ latest transfers done!
–> all European Club teams of the patch are now fully updated!
—> history of earlier versions and general features of the patch read further down. There you can find also a description of the patch which shows its purpose as well as its proper use!
DOWNLOAD INSTRUCTIONS
1. First download final PESEdit Patch 6.0 if you still don't have : click here.
2. Switch in PESEdit Selector on tab "2nd divisions" to your favored 2nd division: Championsship, 2.Bundesliga or Liga Adelante. Let the Dutch Eredivisie league as default league –> All other switches are not supported!!!
Recommendation: Go to tab "Switches" and disable boot boosting.
3. Download the corresponding Installer ( Championsship, 2.Bundesliga or Liga Adelante Installer). Execute the installer —>
At the setup follow the instructions and install inside your game folder ( default path is C:\Program Files\KONAMI\Pro Evolution Soccer 2013 ). Done!
Championsship-Switch Installer:
2. Bundesliga-Switch Installer:
Liga Adelante-Switch Installer:
Important:
a) If you want to choose another switch just follow the steps 2. + 3. again ( see above ).
b) If you want to remove the patch you have to go to your Konami/Pro Evolution Soccer 2013 game folder and execute the uninstaller with the Chelsea icon..
After just download and execute one of the following pesedit 6.0 recovery installers depending on what switch you have done before:
For Championsship-Switch:
For Bundesliga-Switch:
For Adelante-Switch:
—> Now you can switch leagues like you want again and your PESEdit6.0 is recovered fully!
Optional tool:
Starting year tool by Xeor updates your pes2013.exe to season 2013/2014. In my patch players ages has been designed for season 2013/2014 but unfortunately there are some problems with the tool. So you can use it at your own request.
Click here For : PES 2013 Starting Year Tool by Xeor
History :
PSP6.1 +++2014 WINTER TRANSFER UPDATE ++++
+ Players Stats Patch is back with Standard Dutch League Switch. The two promoted teams Cambuur-Leeuwarden and Go Ahead Eagles are included. Players stats update for the complete Eredevisie.
+ Complete European leagues winter transfer update ( England, Spain, Germany, Italy, France, Portugal, Netherland + all Champions League participants) —> more than 1000 transfers made, including Cabaye > PSG, de Bruyne > Wolfsburg, Lacina Traore > Everton, Mata > Manchester United, Matic > Chelsea, Salah > Chelsea …etc.
+ Players Stats complete updated.( age, positions, abilities etc.) regarding to current market value.
+ Many many missing players added ( i.e. Jojic, Brandt, Bentaleb, ……. etc.).
—–> Overall for sure more than 500 players added ( together with players from new added teams ) !!!
General features (from earlier versions) :
+ Portugal league: Promoted teams Arouca and Belenenses are included
+ New Other European teams added with accurate player stats:
Austria Wien, Red Bull Salzburg, Grasshopper Zürich, Standard Liege, Apoel, Chornomorets Odesa, Atromitos Athen replaces AEK Athen
+ Complete players stats ( age, positions, abilities, market value etc.), team formations etc. update for all English Premier League teams and all available Championsship teams ( + Wolverhampton Wanderers )
+ Complete update of transfers, players stats, formations for all partizipating Champions League teams and the 50 most valueable teams —> http://www.transfermarkt.co.uk/en/de…ms/basics.html
+ NEW! Complete players stats ( age, positions, abilities, market value etc.), team formations etc. update for 1.Bundesliga and 2. Bundesliga.
—–> by guess alltogether about 5000 players stats updated!!!
+ Master league features:
– Players development is reworked for all players to avoid overdevelopment. (# See description below )
– Additional U21 players and other important players which play in other leagues are in Master League available.
– Optional: Created fake youth players for your ML Youth team. (# See description below )
– Club ranking update, reworked Champions League and Europa League slots
– Full support for the 2. Bundesliga Switch and English Championsship Switch with default Dutch Eredevisie. (All other switches are not supported because it would mess up some players in the Optionsfile).
Credits:
PesEdit Patch team, Ukrainian patch addon team, PTE Patch team, Dido_SMoKE, J_NKEY1002!, goldorakiller, barcafan, w!Ld@, EPT team, facemaker, diavolo86 + all other kitsmaker, all i have forget to mentioned to make it possible to release this patch. Last but not least my family.
# Description of the Patch
First of all I want to thank PESEDIT Team for their great Patch work.
This Players Stats Patch based on the final PESEDIT Patch 6.0 for PES2013 and is fully supported for Championsship, 2. Bundesliga and Liga Adelante (3 teams) switch combined with standard Dutch league. All other switches are not supported!!!!
Players overall stats ( and average players stats too) are adjusted to current market value . ( source: transfermarkt.de)
Note: Older players (mainly 30 years + ) get an bonus because their market value is decreased, young players ( under 23 years ) get a discount on their market value for overall stats because they still developing further. The positions of all players are reworked, many small corrections like market prices or players hight were corrected. Players growth types were adjusted to ensure a proper stats development in Master League. So there is no bulk of players anymore whose overall stats value reach 100 or more after few years Master League.
Note: Konami unfortunately makes the development of players at your own ML team unbalanced ( in particular if you choose one of the top teams). If you want to avoid this overdevelopement at your own Master League team you have to choose at least a weaker coach ( or reduce your focus points with the best coaches) and don't take further Focus point increases because it will speed up your players development.
Actually you can set your training to zero Focus points so player will only develop if they play matches. This helps young players to start in the first eleven quad because they will not grow then by sitting on the bench. And it also enables a much more proper decline of old players comparable then to the AI's players development!
Top 15 players in season 2013/2014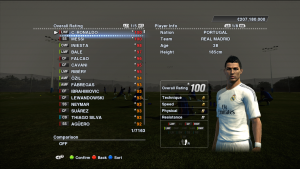 As an optional feature the classic teams and the ML hide teams were filled with fake players for the creation of new ML youth players:
Some of them will appear in your youth team in your second Master League season. Actually they appear already in first season as free agents with age of 45 years (so nobody will sign them), retire after first season and are available then in second ML season as youth players. The players are taken from Konami fake teams (original Konami OF). Stats and some player names have been changed. To use this option simply switch on ML classics in the General settings when you start a new ML. If you don't want to use this fake youth players in Master League, just let the Classic Players option switched off.
England classic teams with fake English players:
Fake English youth player example:
DONATE PER PAYPAL
More Tags :
update ability pes 2013, pesedit v6, PES PLAYERS STATS 2 013 PLAYERS ARENT AT PES, player update pes 2013, pesedit6, i want to update pes 2012 players as 2013-2014 players, pes 15 stats, cara update ability pes 2013, pes 15 player ratings