PES 2013 Adidas 2014 Kitpack Volume 2 by BK-201
This pack contains almost all new kits for teams sponsored by adidas unveiled until today. China and Paraguay will be released later in further packs with other new uniforms that haven't been unveiled until now by adidas, as Ukraine for example.
America: Argentina, Colombia, Mexico, Venezuela
Africa: Nigeria
Asia: Japan
Europe: Denmark, Germany, Northern Ireland, Romania, Russia, Scotland, Spain, Sweden, Wales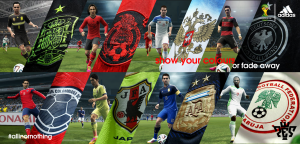 All of them with home, away, GK home and GK away if they already used it.
Password: peskitsbk201
More Tags :
pes 2013 germany kits, PES 2013 Adidas 2014 Kitpack Volume 2 by BK-201, pes 2013 germany world cup kit, adidas 2014 kitpack volume 2 by bk-201, pes 2013 adidas kits pack for wc 2014, kit adidas pes 13, kits germany 2014 pes 2013, PES 2013 adidas 2014 kitpack volume 2, pes 2013 kit germany 2015