Chants F.C. Barcelona PES 2014 PC by Secun1972
Edited and adapted to the PES by Secun1972.
News 6 chants.
Applies to any patch.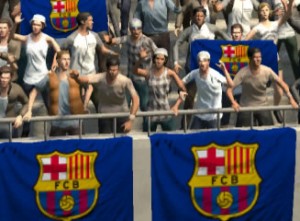 Download:
To copy and to stick the folder supporter inside:
fileloader/pes14_snd/common
[plugin]
dll = Lodmixer.dll
dll = Speeder.dll
dll = KitLoader.dll
dll = Controller.dll
dll = Faceloader.dll
dll = VideoLoader.dll
dll = Gameplay.dll
dll = Match.dll
dll = Camera.dll
dll = SongLoader.dll
Click HERE FOR FORUM POST AND VIDEO.
More Tags :
suporter pes 2016, PES 2015 Supporters Edit, pes 2015 supporter, suporter pes 2014, Pes 2014 download suporter barcelona, pes 2014 barcelona chants, fcbpes, Download suporter FC BARCELONA, download chants barcelona pes 2014