PES 2014 Bootpack v2.1 by Ron69
– 82 Boots
– compatible with PES edit Patch 3.0
– compatible with other Patches ( not tested)
– new Boots added / updated
– new Bootpreviews
– new Bootbrands (Messi and Ronaldo)
– required the last FileLoader (not included)
– required and works only with KONAMI Update 1.04 and DLC 2.0
– correct Bootnames, Materials and Colors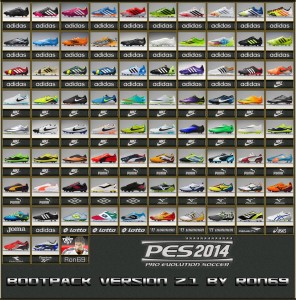 Install: Load and install Tool FileLoader. Copy the folder in the RAR Archiv in the Folder "FileLoader". Overwrite existing Files and Folders.
CREDITS: WENS, Qinchao, scp4eva, thetrinity12, saks07, PES edit, Fire Patch, MartyMcFly and all Bootmaker
Video Preview :
BIG THANKS to scp4eva and thetrinity12 for his support. I hope, you like it !
More Tags :
bootpack pes 2014, pes 2014 bootpack ps3, bootpack pes psp, bootpack pes 2014 psp, pes 14 psp boots patch, download patch boots pes 2013 psp, descargar bootpack pes 2014 ps3, patch v2 1 pes 2014, pes 2014 bootpack v1