Wissam Ben Yedder Face PES 2014 by KarkZ
Tunisian by origin, striker for Toulouse in Ligue 1.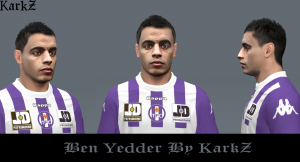 1. Download and install FileLoader made by jenkey first. If you already have it, skip this Step.
2. Extract folder Ben Yedder to C:\Program FilesKONAMI\Pro Evolution Soccer 2014\FileLoader\GDB\face.
3. Add this line to your map.txt in face Folder :
player=42296,"Ben Yedder"
4. Ingame Edit Physique.
5. Thanks For Download & Enjoy.
Note : Maybe Skin Colour Is Different Than Faces Colour .
More Tags :
ben yedder fifa 16, تنزيل وجه ben yedder 2016 لبيس 2013, wissam ben yedder face pes 2013, telecharegr pes2017, Pes 16 creation face ben yedder, pes 13 face ben yedder, download face wissam ben yedder di pes 2013, ben yedder pes 6, Ben yedder pes 2017 visage