PES 2014 FacePack vol.1 by olivier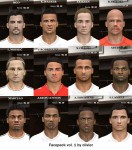 Installation Instructions:
1. Character1 character0 files and extract the PES FileLoader \ pes14_win_dat \ common
2. EDIT.bin copy the file to the Documents \ Konami \ Pro Evolution Soccer 2014 \ save
3. The game itself will probably have to set your hair for the players.
Must be copy EDIT.bin file because it contains skin colors of individual players.
More Tags :
pes 2014 face pack vol 1 by olivier